What to Expect in 2023: 4 Trends Shaping the Sustainability Landscape
The Mega-Trends We Expect Will Mark 2023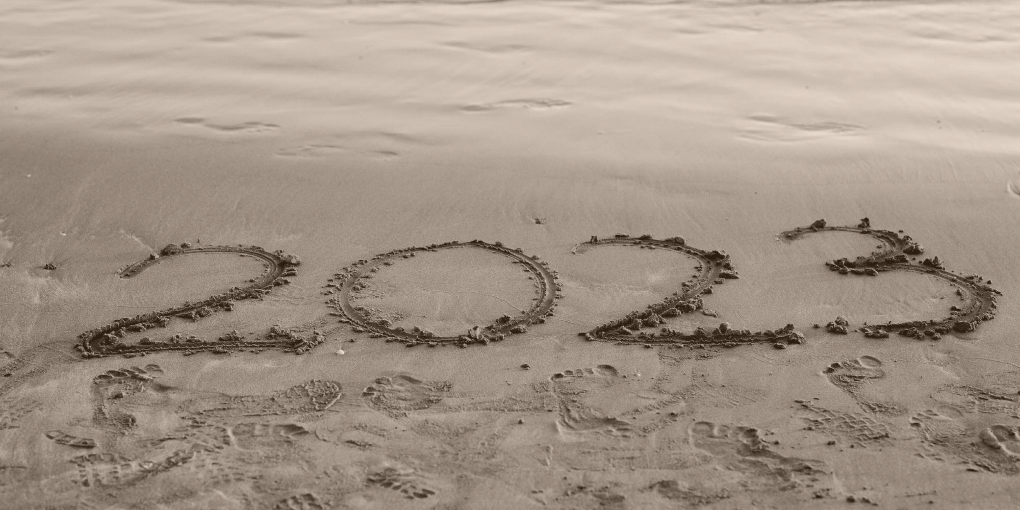 In one of our latest articles, we've provided you with an overview of the main ESG-related topics that marked this past year.
Now, it's time to look ahead and explore the top sustainability trends that will dominate 2023, burning bridges with business as usual.
Well-being comes first
The COVID-19 pandemic caused a 25% increase in anxiety and depression worldwide (WHO, 2022).
Despite its negative impacts, we can certainly claim that the pandemic took away much of the stigma surrounding mental health. It increased awareness of the topic and encouraged people to openly talk about it.
A 2022 UK-based study from Deloitte finds that 50% of employees have experienced burn-out due to:
Excessive job demands and expectations;

Lack of social interaction;

Lack of work-life balance.
Similarly, 41% of US employees report a lack of mental well-being support from their employers.
The numbers above suggest that much can still be done with respect to well-being in the workplace.
To further encourage organisations to improve their attention to the topic in 2023, the following statistics are relevant:
Globally, 76% of people attribute mental health to the same importance as physical health (Ipsos, 2022);

80% out of 9,000 survey respondents identified well-being as a crucial factor for their organisation's success

(

Deloitte, 2020

)

;
Nearly $1 trillion is lost every year due to depression and anxiety resulting in absenteeism at work

(WHO, 2022)

.
As the chart below shows (MetLife, 2022), employees give a much higher priority to wellness programmes and work-life balance when looking for a job.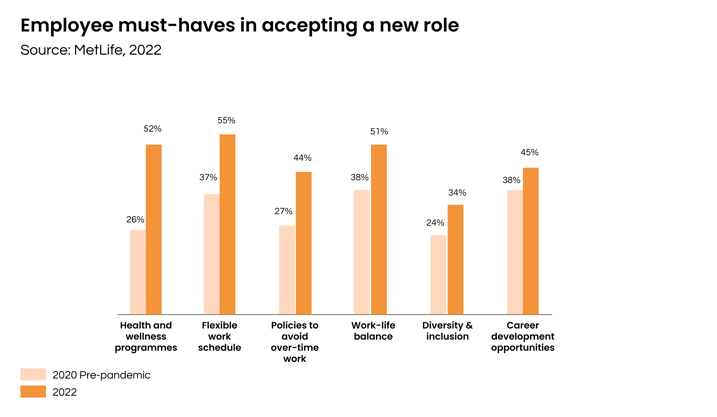 For a more extensive article on the topic, read "Why You Should Invest in Employee Well-Being".
Technology and AI to boost climate action
AI proves to be a powerful means to:
Reduce emissions;

Improve energy efficiency;

Increase the use of renewable energy.
Based on the 2022 BCG Climate AI Survey Report, 87% of interviewed CEOs believe AI will be an essential tool in the fight against climate change.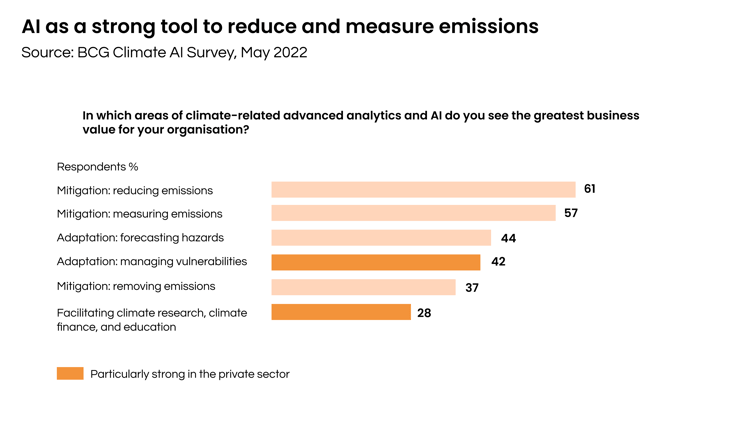 Particularly, the potential of AI can be deployed as follows:
Mitigation
AI can facilitate the mitigation of climate change through:
Emission measurement;

Emission reduction strategies;

Carbon removal.
Boston Consulting Group estimates that an organisation's carbon footprint could be reduced by 5% to 10% using AI.
Adaptation & Resilience
AI can improve adaptation efforts by better forecasting climate-related risks and hazards. Thus, Artificial Intelligence can be used to predict sea-level rise or extreme events such as hurricanes and droughts.
On top of that, it comes in handy to test infrastructure resilience and strengthen it.
Climate Science
Finally, AI can be used for further climate research and modelling, as well as climate finance and analytics.
Closing the loop
The fight against climate change goes hand in hand with the one to curb waste.
In fact, the trash that piles up in landfills releases methane gas. The latter accounts for 25% of today's global warming and has more than 80 times the warming power of carbon dioxide in the first 20 years after being released (Environmental Defense Fund).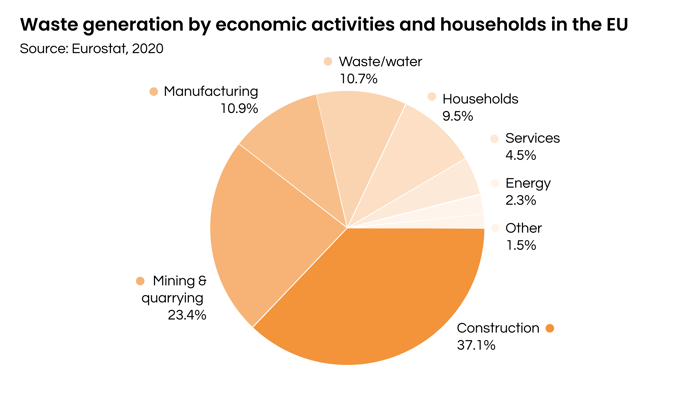 Based on Eurostat research, 4.8 tonnes of waste were generated per EU inhabitant in 2020. This is about three times as heavy as a car.
Additionally, out of the 95.5 million tonnes of waste generated in 2020 in the EU, 4.4% was hazardous waste. This means it poses a high risk to human health and the environment.
In the context of the European Green Deal, responsible waste management and circularity are expected to grow in the upcoming future.
Relevant trends to keep an eye out for could be:
Take-back programmes
More companies are offering customers the possibility of returning used items for reparation or channelling them back into the production process.
Take-back programmes are great to extend the life cycle of products or re-purpose them as input factors.
Demand planning
Demand forecasting is a great tool to predict demand and avoid surplus and waste. It is particularly relevant to industries dealing with seasonal items or fresh products, such as supermarkets.
Packaging waste
The European Commission proposed a new update for the Packaging Waste Directive.
The review aims to guarantee that "all packaging on the EU market is reusable or recyclable in an economically viable way by 2030".
Additionally, as part of the 2018 Plastics Strategy, all plastic packaging should be reusable or recyclable by 2030.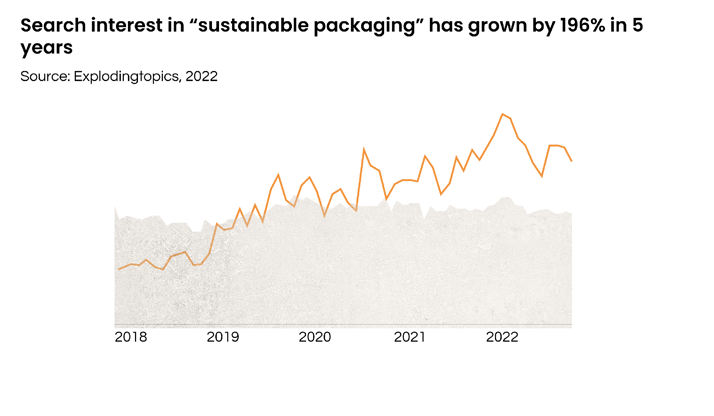 Other than being essential to halt the climate crisis, cutting down on waste will also have direct economic benefits. Accenture estimates that by closing the loop and going circular, the consumer-packaged goods industry will generate $35 billion of value from reduced costs.
Transparency: the new watchword
New regulations and increased stakeholder scrutiny make 'transparency' one of the 2023 watchwords.
As the word, 'sustainability' is often abused and the risk of greenwashing is around the corner, consumers become warier about companies' statements.
According to Edelman statistics, 6 out of 10 consumers tend to distrust something until they see evidence that proves its reliability.
The upcoming CSRD fits in perfectly with this trend as 2023 will be the year in which we expect the new Standards to be approved by the European Commission.
To know what the European Sustainability Reporting Standards (ESRS) will mean for the ESG reporting realm, read our article here.
On top of that, organisations will face greater climate-related disclosure requirements. In fact, investors and stakeholders demand better communication on climate-related risk management.
Our article on Climate Disclosure provides you with an overview of the main frameworks to report on climate action.
If 2022 was marked by climate commitments and target setting, in 2023 we must move from discussion to action. The window of opportunity to tackle environmental and social challenges is rapidly closing and we'd better act now until the cost of action is lower than the one of inaction.