Top 6 Questions About Sustainable Procurement
The answer to your questions about the top challenges of sustainable procurement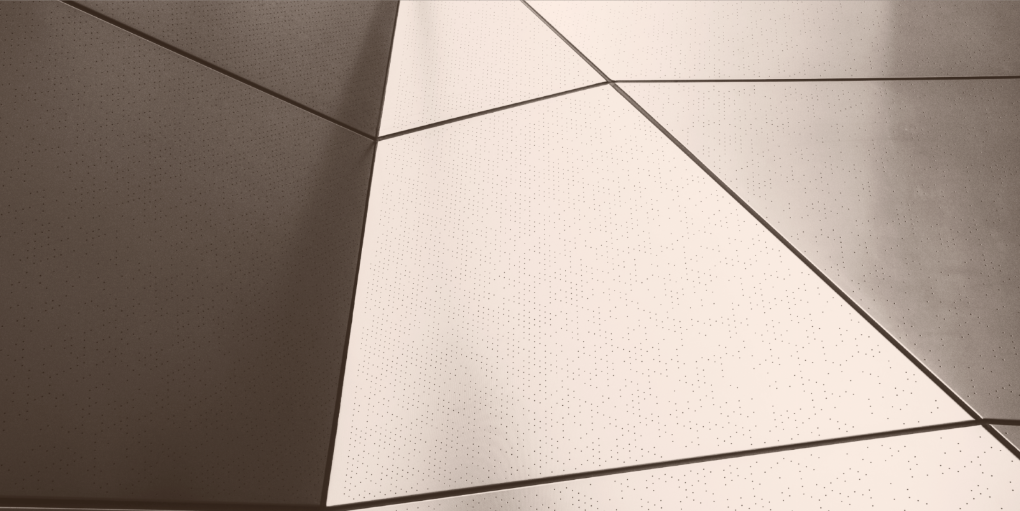 Are 50 euros for a pair of jeans a reasonable price? Consider the environmental and social impact generated to produce them. You would likely come to the conclusion that the answer is no. How about the products or services that your organisation sells?
The textile industry is responsible for using nearly 400 billion litres of water annually for materials production. Adding on the amount of CO2 generated during upstream operations and transportation. All of this makes the industry responsible for roughly 4% of the total global emissions.
What is more, according to the International Labour Organisation, almost 21 million people globally are victims of forced labour within the textile industry alone.
At least two-thirds of the average environmental and social impacts of an organisation lie along its supply chain. (McKinsey 2021)
These numbers motivated us to address "The What, Why & How of Sustainable Procurement" in the first article in our series.
In this blog, we will dive deeper into the "How". We address the biggest challenges organisations face in building sustainable supply chains. And of course, offer best practices and advice.
It's clear that an organisation implementing a sustainable procurement programme can have a huge positive impact. Much of an organisation's environmental and social impact can be found outside its direct operations. From the purchasing of materials to the outsourcing of production for products.
Sustainability initiatives in the supply chain, therefore, offer the greatest opportunity for an organisation to shape its social and environmental footprint.
The benefits of a sustainable procurement programme
Reduce greenhouse gas emissions;

Reduce environmental impact;

Support human rights;

Increase supplier diversity.
Aside from impact, your organisation can become more attractive to consumers. Trends have shown that Gen Z consumers are expanding the sustainability conversation, influencing consumers of all ages.
As shown in Figure 1, between 2013 and 2019 there has been a 30% increase in the number of consumers, across all generations, willing to pay a premium price for sustainable products.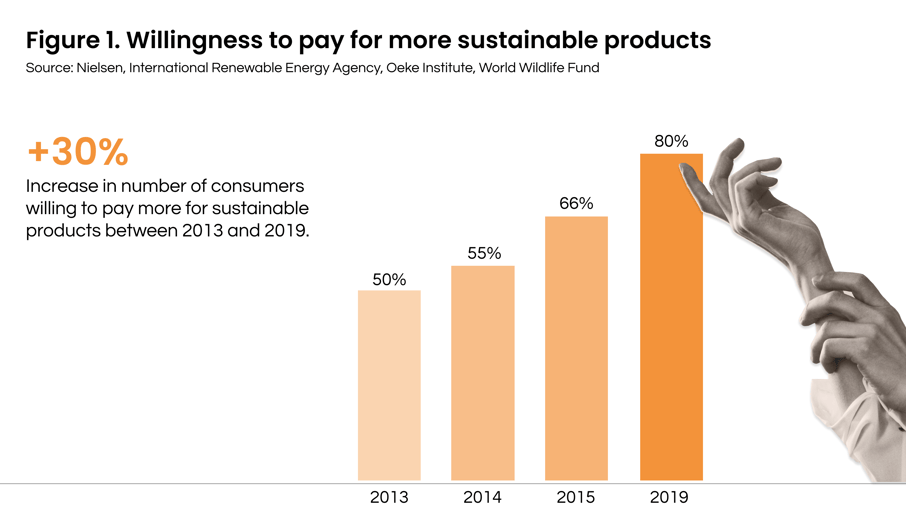 The benefits are clear, and yet such a task raises many challenges and questions that are not always easy to answer. To help, we've taken seven of the most common challenges and questions we've heard from organisations and clients. In this blog, you will find an answer or advice to each of them.
1. Lack of knowledge regarding sustainable practices
Some organisations face a lack of internal knowledge regarding sustainability and sustainable procurement. How can you address this?
It is always important to ensure that employees within an organisation are aligned in their understanding of sustainability and sustainable procurement.
A straightforward way to do this is through training. This makes the benefits, potential challenges, and how your organisation is involved in sustainable procurement clear to stakeholders (including employees). This brings clarity to the next steps and what tools and resources are needed to adapt the procurement process.
A big knowledge gap exists around data. There are different ways to solve this. If your organisation does not have a process in place, start there. Measure, collect, and consolidate important sustainability data regarding your supply chain. Examples include carbon emissions, packaging waste produced etc.
Another way to gather data is by auditing or assessing your suppliers. This can be done by a third party, but you can also start internally. Draw up a list of questions for your suppliers and ask them to complete the survey. When you're ready for a more robust program, you can get an external assessor or audtor involved.
KPIs (Key Performance Indicators) are very useful measuring aides in this process.
Consolidate any information regarding key suppliers. Stating the obvious: data is important. Consolidation will set a baseline of where your organisation is. At the same time, it can also give initial insight into key areas for improvement.
2. Prioritising supply chain sustainability risks
How do you as an organisation know which CSR/ sustainability risks to focus on in the supply chain?
Every organisation will need to assess which risk areas to focus on in their supply chain. Key risks will depend on a variety of factors. A methodology we recommend is a materiality assessment, which also takes the input of stakeholders into account.
GRI (Global Reporting Initiative) has created guidelines for what such a materiality assessment could look like. The matrix helps organisations to prioritise key environmental, social and governance areas to focus on. For such an assessment, the industry and geographic region(s) of your organisation will provide answers. Suppliers can also help signal what the key supply chain sustainability risks could be.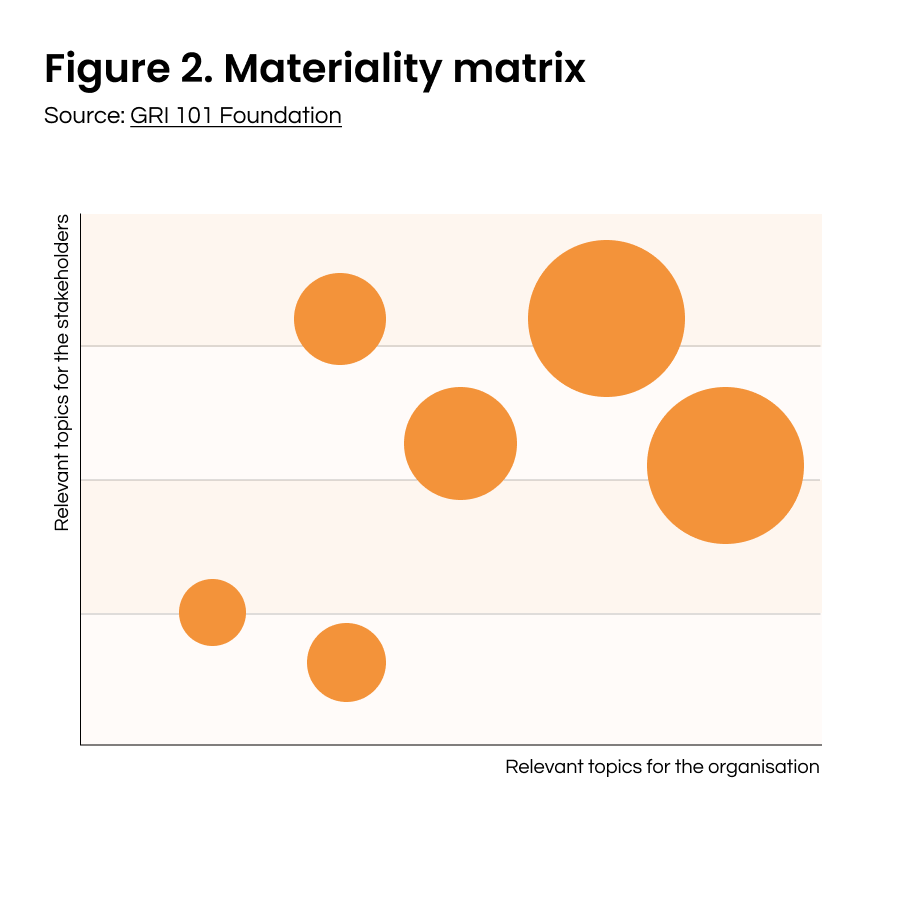 GRI's visual representation of the materiality assessment
Source: GRI 101 Foundation
Furthermore, there are also great tools online, such as the CSR risk check, to provide support in the assessment of risks. Ultimately, the topics to be prioritised must be decided on by the organisation itself. It depends on the thorough assessment conducted with chosen methods.
3. Supplier relationship management.
Some organisations face an overwhelming number of suppliers. Where do you start to tackle sustainable procurement?
As an organisation with many suppliers, it is key to use resources within your existing procurement system. A supplier overview document for example can help identify key suppliers to include in the purchasing program.
Key suppliers could cover the biggest accounts, largest total spend, or suppliers with whom your organisation has a long-standing relationship. With such suppliers, the conversations regarding sustainability performance are likely to go much further. You can build on a stronger partnership and more frequent interaction.
Alternatively, it can be useful to work with suppliers in high-risk industries or high-risk geographic areas. This usually means there is likely to be a high impact when engaging in sustainable procurement.
4. Integrating sustainability into an organisation's governance structure
As with any programme of change within an organisation, it is important to have internal alignment. How do you ensure the alignment amongst management and other stakeholders, including employees, regarding the implementation of a sustainable procurement programme?
Supply chain practices should be part of a larger sustainability management system or sustainability strategy within an organisation. To have this implemented internally, proper governance structures need to be in place.
A key area to start is a sustainable procurement policy.
Policies are organisation-wide documents outlining the direction an organisation wants to go and the goals it aims to achieve. Policies allow you to implement your organisation's vision of becoming (more) sustainable. They outline the concrete objectives and sustainability goals you aim to achieve. In this case, specifically for procurement.
One of our case studies covers CIRFOOD, which took steps to create pillars key for their procurement strategy. This has helped give clear guidance for the direction they wanted to go towards as an organisation.
5. Lack of internal resources
Resources are essential when tackling sustainable procurement, in terms of time, funding, manpower, and information resources. How to deal with limited internal company resources?
Most important when it comes to managing resources is to manage expectations. Implementing a sustainable procurement programme is not a quick solution. It is a long-term process that once implemented will still be an ongoing process of improvement and development.
You should know that implementing a sustainable procurement programme is not about starting from scratch. Wherever possible, make use of your organisation's existing procurement systems, resources, and data as a starting point.
Furthermore, it can also be beneficial to explore collaboration between and within departments to help expand resources. While sustainable procurement is focused on purchasing processes, it can bring benefits to the entire organisation. In addition, collaboration can bring fresh perspectives that can be helpful for the process.
Finally, there is a wealth of tools available to support your organisation's sustainable procurement journey. This covers anything from online risk indexes to data management systems and digital dashboards that help keep track of data. Such tools help manage the programme, create automation, and reduce the long-term time and resources that need to be invested.
Aside from tools, there is also a lot of external help available. Various consultancies and other organisations can provide great support. The sustainable procurement journey can put pressure on your internal resources.
6. Lack of supplier engagement
A sustainable procurement programme has been started, but it seems our suppliers are reluctant to engage. How should we approach this?
This is a difficult challenge to address, and one that has no straightforward answer for. Again, it is important to remember that sustainable procurement is not a quick or easy journey. It will take time.
Our advice? Take the sustainable procurement programme step by step. Help set supplier expectations, and avoid overloading them with changes or requirements.
On top of this, it can be useful to approach sustainable procurement with suppliers. Having an ongoing and two-way conversation can make a big impact. Rather than having directives coming from your organisation, focus on collaboration. Such an approach can help build stronger partnerships, bigger sustainable impacts, and lasting change in your supply chain.
Conclusion
Remember that your organisation is not alone in the hurdles it faces when implementing a sustainable procurement programme. Such a programme is no easy feat. However, those that start earlier rather than later will see the biggest benefit. Especially as the external regulatory environment begins to catch up and raise mandatory sustainability standards for organisations.
Read more on the 2023 EU Directive on Due Diligence
Do not let these hurdles stand in the way of getting started. Use the resources available to you, prioritise, take small steps, and things will start to come together.
Sources
https://www.greenstoneplus.com/blog/bridging-the-gap-between-sustainability-and-procurement-4-key-challenges