The Art of Collaboration: Supplier Engagement
How Supplier Engagement Can Help You Building Responsible Supply Chains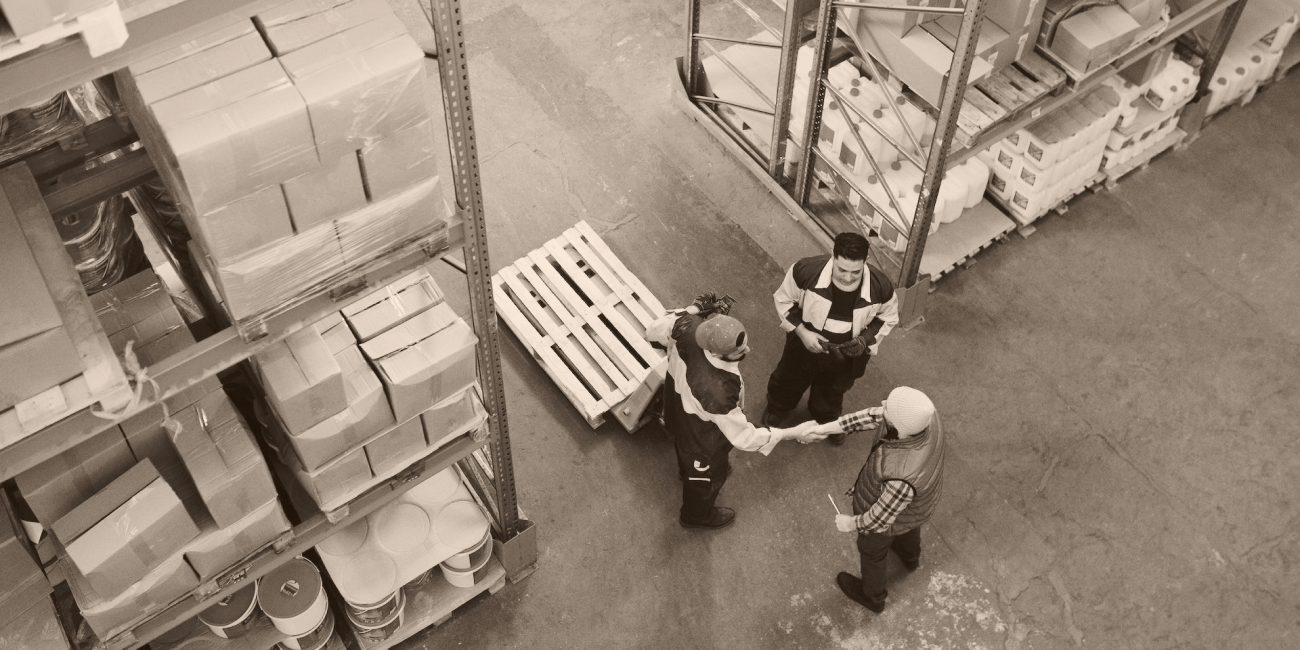 As the impacts of business activities extend way beyond organisational boundaries, supplier engagement is fundamental to understanding and acting on the generated footprint in a meaningful way.
Nonetheless, EcoVadis data (2023) shows that companies struggle the most when it comes to Sustainable Procurement.
Sustainable Procurement is defined as the integration of requirements and criteria meant to protect the environment and society in an organisation's purchasing decisions.
Figure 1 highlights the global average score achieved by companies rated by EcoVadis in 2022. Sustainable Procurement is the lowest across the four EcoVadis sustainability pillars. On top of that, the EcoVadis Business Sustainability Index Report (2018-2022) signals larger companies are those that score the lowest on this theme, demonstrating the urgency for increased efforts in this area.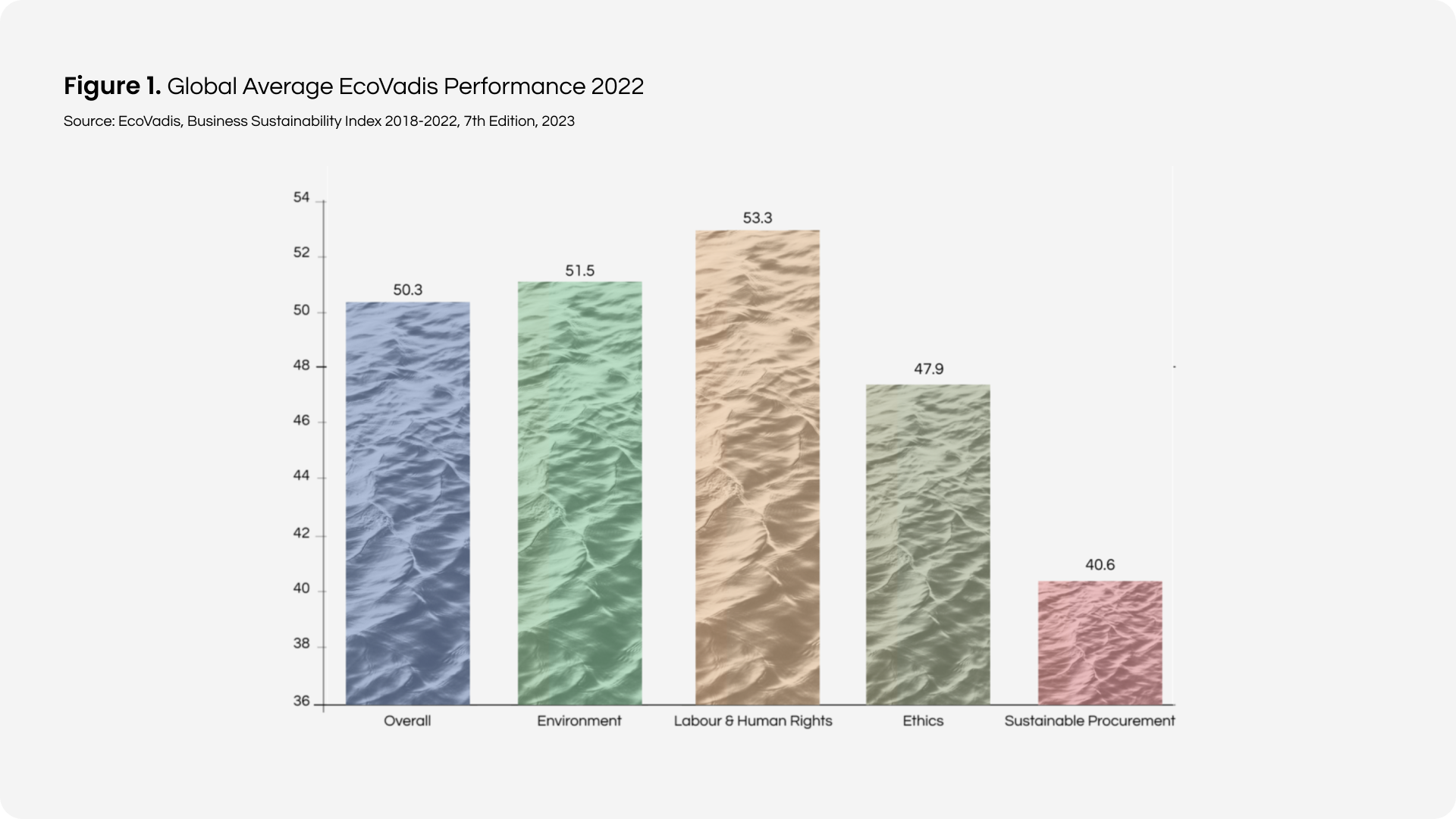 Putting in place sustainable procurement practices helps organisations with risk mitigation, cost reduction, brand reputation and revenue growth (World Economic Forum, Beyond Supply Chains, 2015).
Other than the clear benefits organisations can derive from managing their supply chain in a responsible way, there is an increasing number of legislations and regulations being introduced to push companies towards sustainable procurement.
At the European level, these include:
European Corporate Sustainability Due Diligence Directive (EU CSDDD):

The CSDDD is part of the European Green Deal and will require companies within scope to implement due diligence measures to take action on negative human rights and environmental impacts generated by their activities and those of their suppliers.



EU Regulation on Registration, Evaluation, Authorization, and Restriction of Chemicals (REACH):

The EU REACH aims to protect human health and the environment by regulating the use of chemicals in business activities.



EU Directive on Restriction of Hazardous Substances (RoHS):

This EU Directive aims to prevent potential risks to human health and the environment by regulating electronic and electrical waste management and restricting the use of certain hazardous substances in these devices.
Other examples that apply at the country level are:
UK Modern Slavery Act:

Enforced in 2015, it regulates modern slavery and human trafficking and applies to UK businesses.



German Supply Chain Act:

Enforced in 2023, this new law mandates German businesses to identify and account for their impact on human rights across direct and indirect suppliers.



French Corporate Duty of Vigilance Law:

Enforced in 2017 for French large companies, the Loi de Vigilance requires to manage human rights and environmental risks within the organisation and its suppliers.
Given the clear importance and current accountability gap in place regarding most companies and Sustainable Procurement, what can be implemented in order to bridge this gap? One essential tool is supplier engagement, which we will explore in the second half of this article. Specifically:
Why supplier engagement is key to managing your supply chain responsibly;
How to engage with your suppliers;
How supplier engagement can be leveraged to seize opportunities and generate positive impact.


Supplier Engagement: The Basics
Supplier engagement means working together with suppliers and looking for shared opportunities to mitigate and reduce negative environmental and social impacts, as well as seize the opportunity to scale positive sustainable impact across a company's entire sphere of influence. Through involvement and collaboration, suppliers feel empowered and more motivated to contribute to the change you wish to bring.
The Road to Collaboration
Putting in place a thorough engagement plan with your supplier is a fairly advanced practice of supply chain management. Therefore, you should start with the fundamentals of sustainable procurement and progress in stages towards more advanced forms of collaboration.
Strategy & Objectives
The first step consists of putting together a comprehensive procurement strategy with clear, measurable objectives. In fact, to understand the direction to take, you first need to define where you want to go.
Governance
Based on the objectives set in place, it's time to formalise internal policies and codes of conduct, as well as assign clear roles and responsibilities across the organisation.
Supplier Due Diligence
This stage is meant to ensure that your suppliers comply with relevant laws and regulations, meet business standards, and ultimately align with your strategy and objectives.
Supplier Risk Assessment
Closely linked to the above, a supplier risk assessment aims to identify the potential risks spread across your supply chain, and related to each of your suppliers. Risks can be associated with external factors, such as the geographical area of the supplier or the industry in which they operate, as well as internal, such as processes or activities conducted.
Buyer Capabilities
Having a sustainable procurement strategy in place is not enough. The procurement team must have sufficient capacity to implement it. To ensure that, organisations can strengthen buyer capabilities through training, resources, time, incentives and other support needed to implement the necessary processes.
Reporting
Reporting entails collecting relevant data, monitoring progress, regularly reviewing targets internally, as well as communicating progress with your stakeholders. This stage helps identify how the efforts of your suppliers are contributing to your results.
Engagement Plan
Once all these foundational elements are embedded within your organisation, you can start thinking about a supplier engagement plan.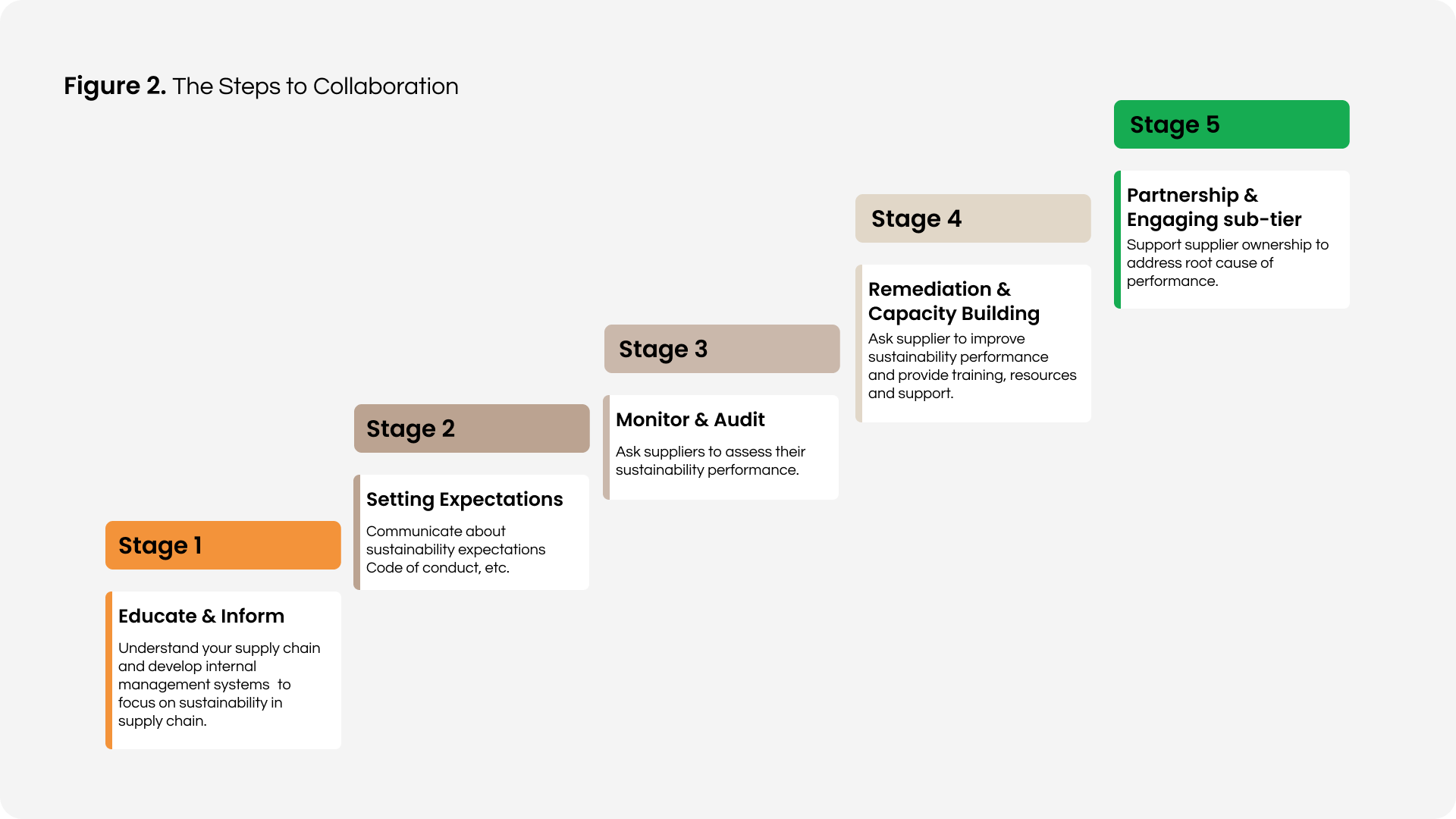 Building A Supplier Engagement Plan
Different elements compose a thorough Supplier Engagement Plan. In this section, we present some of them as well as explain how reporting tools, such as EcoVadis, can help you in the process.

1. Disclosure & Target Setting
To embark suppliers on your sustainability journey, disclose your sustainable procurement strategy and make them aware of your goals. To create a shared commitment, set targets for your suppliers based on their maturity level and relevance within your overall strategy.
Asking your suppliers to complete a sustainability assessment, such as EcoVadis, can help identify their strengths and weaknesses and set targets based on the obtained results.
2. Supplier Questionnaires & Third-Party Assessments
The level of risk associated with your suppliers depends on a multitude of different factors. Therefore, the type of assessment that suits each supplier best varies. For low-risk suppliers, a questionnaire might be enough. For others, it might be necessary to conduct an on-site or third-party assessment.
3. Performance Monitoring
One of the biggest challenges organisations face when interacting with suppliers has to do with data collection. Using the EcoVadis platform can be particularly helpful in gathering data in a centralised manner and displaying the results through clear dashboards.
4. Incentive Programmes
This tool aims to acknowledge the contribution and progress made by suppliers and reward them accordingly. The goal is to encourage them to keep up with their performance and favour continuous improvement.
5. Corrective Action Plans
Corrective Action Plans can be implemented for suppliers that are not performing so well. The plan aims to lay out concrete actions to mitigate risks associated with a low-performing supplier.
EcoVadis helps to quickly identify the key improvement areas of a supplier as well as provide clear corrective actions to implement.
6. Capacity Building
The collaboration created through a supplier engagement programme goes both ways. This means that the buyer should support suppliers in the improvement process by providing training, and resources, as well as sharing knowledge or tools that can facilitate progress.
A Non-Zero-Sum Game: Engage to Create Win-Win Situations
To conclude the article, here are some recommendations and best practices to keep in mind when approaching Supplier Engagement:
Communicate your goals and ambitions to suppliers;
Provide suppliers with specific guidelines and codes of conduct that outline the standards they are expected to meet;
Encourage open communication, knowledge sharing, and collaboration on sustainability initiatives;
Offer support, resources, and capacity-building opportunities to help suppliers improve their sustainability performance;
Promote transparency by encouraging suppliers to disclose information about their sustainability practices, initiatives, and performance and lead by example by doing the same towards them;
Acknowledge suppliers that demonstrate progress and offer incentives for suppliers that actively engage in sustainability and achieve noticeable improvements.



If you want to learn more about Supplier Engagement, you can watch our previous webinar on the topic hosted together with EcoVadis or get in touch with our experts.