The Role Of Sustainability In Corporate Decision-Making
A Cross-Industry Study on What Drives Corporate Decisions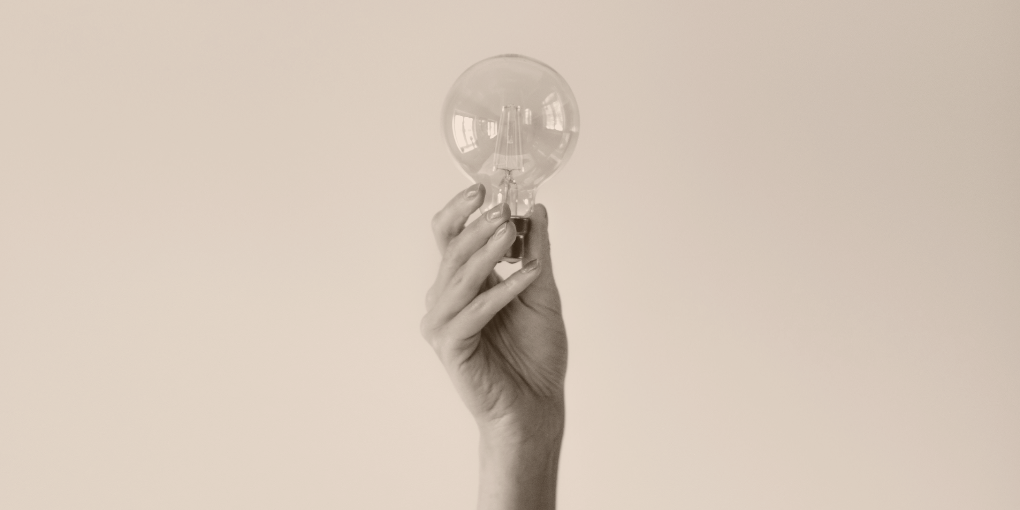 The Role of Sustainability in Corporate Decision-Making
Executive Summary
Today, sustainability should be at the forefront of organisations' strategies. In fact, ignoring Environmental, Social, and Governmental (ESG) issues is associated with:
Higher risks;
Lower competitive advantage;
Lower business opportunities.
This guide aims to investigate the role of sustainability in corporate decision-making. It collects the insights of a wide set of respondents involved in ESG with different roles and responsibilities.
First, we assess the level of stakeholder engagement in sustainability decision-making processes. Later on, we turn attention towards the aspects that drive ESG initiatives and programmes.
We also shed some light on the main challenges of getting sustainability plans off the ground. Therefore, we provide recommendations to overcome them.
Throughout the guide, particular attention is directed at the top 5 industries in our dataset:
Manufacturing;
Chemicals;
Construction;
Food & Beverage;
Finance, Legal, & Consulting.
Among the key findings of this report, we identify:
The mismatch in stakeholder involvement when it comes to sustainability decision-making. The desired level of stakeholder engagement is systematically higher than the level of actual involvement.


Business ethics is the strongest driver for decision-making around sustainability.


Sustainability is engrained in organisations' mission & values, yet it lacks integration in day-to-day operations.


Sustainability still remains a side issue for many organisations. It is seen as a tick-in-the-box exercise rather than an opportunity for innovation and competitive advantage.


A mismatch in how well sustainability is integrated with the top level of the organisation versus the work floor.


Corporate sustainability is top-down rather than bottom-up.


Larger companies have a harder time integrating sustainability into business culture.


There is still a large share of companies not performing a materiality assessment to understand where the biggest sustainability priorities lie.


Even though the majority of companies seem to understand the value of sustainability, still too few resources are invested in it.
We analyse survey responses gathered from more than 350 participants across a diversity of companies, roles, industries and geographies. To have a deeper understanding of the respondents' demographics, download the full eBook.
---
Stakeholders in Decision-Making
More than half of the organisations in our sample (56%) have completed a materiality assessment to identify relevant ESG topics. Materiality refers to:
Those topics that have a direct or indirect impact on an organisation's ability to create, preserve or erode economic, environmental and social value for itself, its stakeholders and society at large.
- Global Reporting Initiative
The list of stakeholders to engage can be very long and complex. We can categorise stakeholders into the following groups:
Internal stakeholders
Employees;
Upper management;
Shareholders.
Commercial relationships
Customers;
Suppliers & vendors.
External stakeholders
Local communities;
Governments;
NGOs.
Across respondents, there is a mismatch between ideal stakeholder engagement and the level of engagement that actually exist.
On average, there is a gap of 26%. This mismatch is the largest for the engagement of local communities. The smallest gap exists for the involvement of upper management.
Based on the three categories, the results of the questionnaire on stakeholder engagement are presented below.
Engagement across internal stakeholders
Employees
On average, a large gap exists between levels of actual employee involvement and the importance attributed to employee engagement.
80% of organisations surveyed thought employees should be involved in decision-making around sustainability. However, less than half of the respondents were confident about engagement actually happening.
Shareholders
Shareholders' awareness of the positive correlation between the company's financial viability and ESG performance has increased rapidly.
Reflecting this trend, 82% of respondents believed that shareholders should be involved in decision-making concerning sustainability issues. Nonetheless, the actual level of involvement is likely to be lower, around 58%.
Upper Management
Upper management is the group where the mismatch is smallest.
Indeed, 84% of respondents claimed that top management is involved in decision-making concerning sustainability. However, 95% of respondents stated that upper management should be involved.

Engagement across commercial stakeholders
Customers
Recent trends suggest sustainability is gaining importance in purchasing decisions1. As a result, adapting to customers' greener preferences will be crucial to preserving a competitive advantage.
72% of respondents in our sample indicated that customers should be involved in identifying material issues and shaping sustainability strategy. On the other hand, only half of the respondents (48%) stated that customers are actually involved.
Suppliers & vendors
A large gap can be found in the optimal and actual involvement of suppliers and vendors.
Approximately 62% of organisations noted the importance of involving upstream stakeholders, while less than a third (around 29%) noted actual involvement.
This finding reflects the increased focus on sustainable procurement by multinationals. In fact, up to 90% of the environmental impact of companies is derived from their supply chain2.
Engaging and including suppliers in decision-making is thus crucial to identifying more sustainable business practices.

Engagement across external stakeholders
External stakeholders are the least involved in sustainability decision-making across survey respondents. These include the following groups:
Local communities
The biggest mismatch was identified for local communities. According to 55% of respondents, they should be involved in decision-making. Nevertheless, the actual level of involvement is a mere 17%.
NGOs
38% of respondents believed that NGOs should be involved, against only 17% claiming that they actually are.
Governments
Finally, a small majority of the respondents (53%) stated that governments should be part of the decision-making process. In practice, 36% is actually involved.

Our results suggest that there is significant room for improvement when it comes to stakeholder engagement.
While respondents in our sample highlighted the importance of stakeholder engagement, the reality shows a different picture. As a result, sustainability is often more of an internal and top-down process than the result of bottom-up engagement.
In the last section of the article, we explore different ways organisations can use to better engage with stakeholders.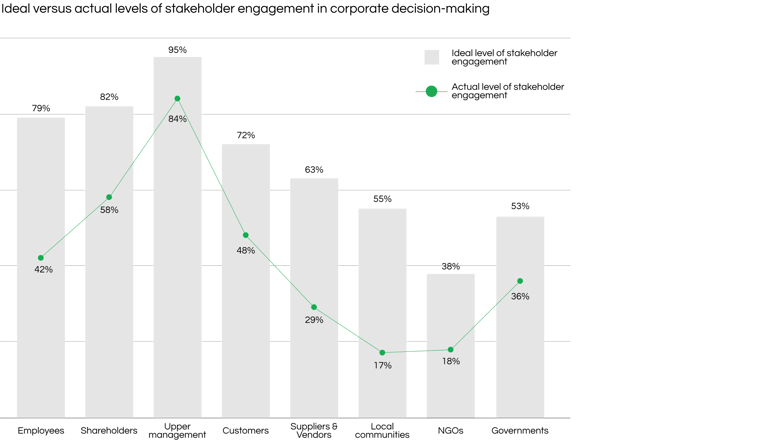 ---
What Drives ESG Programmes?
The ESG issues that drive decision-making
Now we turn our attention to the drivers of ESG programmes and sustainability initiatives.
Business ethics is identified as the most important driver of decision-making across organisations. More than 80% of respondents in our sample noted that business ethics is a top driver in this process.
Following:
Labour and human rights (75%);
Environmental topics (66%);
Sustainable procurement (58%).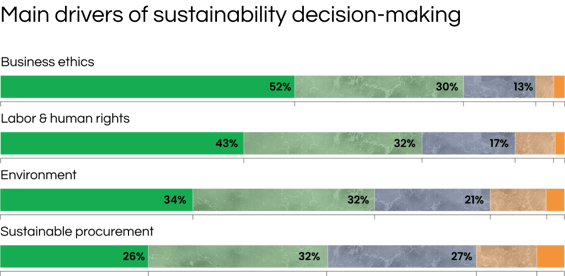 Business ethics is the study of appropriate business policies and practices regarding potentially controversial subjects including corporate governance, insider trading, bribery, discrimination, corporate social responsibility, and fiduciary responsibilities.
It is surprising to see sustainable procurement as the last driver. In fact, research shows how the majority of organisations' impacts occur throughout the supply chain.
This result is consistent with the gap between the ideal and actual level of supplier engagement identified previously. It underlines the gap in measuring and minimising 'Scope 3' impact.
If we tie these results back to the top 5 industries in our sample, it is clear that sustainable procurement is more important for some companies than for others.
However, seeing that 4 out of 5 of these industries purchase raw materials and other goods to operate, one could expect sustainable procurement issues to be a bigger driver.
The carrots & sticks of sustainability strategy
There are important 'carrots and sticks' that drive sustainability strategies. The most prominent are the following:
Alignment with the mission & values of the organisation;
Compliance with regulations;
Reputational gains.
On the other hand, while still important, respondents noted the following issues to a lesser extent:
Attracting and retaining talent;
Responding to competitive pressure;
Minimising negative impact.
Breaking it down per industry, we identified the following differences.
Chemicals
The chemical industry is known for its energy-intensive processes and the potential impact of products on the environment. Hence, it witnesses heavy pressure from authorities to reduce its environmental impact.
This is reflected in our survey, where the main driver of sustainability strategy within the chemical sector is compliance with regulations.
Construction
Construction is a major consumer of raw materials and natural resources. It is responsible for nearly 40% of global GHG emissions3. Therefore, the sector witnesses similar pressure to compliance as the above.
However, respondents seemed equally concerned with maximising positive impact. This is further confirmed by a recent global survey by SAP. According to it, nearly half of respondents said that sustainability is top-of-mind or a major concern4.
Attracting and retaining talent ranked lowest for the construction industry as a driver of sustainability strategy. However, younger generations are placing increased attention on sustainability. Hence, this could become an area of focus for organisations that want to differentiate themselves.
Manufacturing
Due to their reliance on supply chains, manufacturers seem to face more pressure from stakeholders than from regulators. According to respondents in our survey, sustainable initiatives are mostly driven by the meeting of stakeholder demands.
On the other hand, manufacturers are least concerned with maximising a positive impact. They seem to be more commercially driven when it comes to sustainability. In fact, it scores highest on drivers related to profit increase.
This is supported by a 2010 McKinsey study6, arguing executives in business-to-business companies are more likely than their counterparts in consumer-facing companies to seek new growth opportunities through sustainability activities (20%, versus 14%).
Food & Beverage
Important drivers for the industry are:
Meeting stakeholder's expectations;
Aligning sustainability initiatives with mission & values.
The increasing awareness and sustainability demands of consumers are key drivers for consumer-facing industries like the F&B sector.
Moreover, the pandemic has revealed severe disruptions in supply chains leading to an increase in the need for resilience. This could explain the internal motivation in the industry, rather than behaviour driven by external regulatory pressure.
Finance, Legal & Consulting
The top priorities for the finance, legal and consulting sectors are:
Alignment with mission and vision;
Maximisation of positive impact.
Sustainability is increasingly becoming a central issue for the financial industry. Banks, insurance companies and other market players can cover an important role in transitioning to a greener economy.
The legal sector7 has witnessed an increasing number of laws and regulations on ESG topics in recent years.
Finally, the consulting sector is rapidly orientating its mission towards sustainability. In fact, businesses are trying to improve their sustainability performance but often lack the expertise to do it independently.
---
Implementing Sustainability Initiatives
Implementing sustainability programmes and initiatives
Although 90% of executives think sustainability is important, only 60% of companies have a sustainability strategy8.
We often see a mismatch between ambition and action. Incorporating ESG issues in the business strategy seems to be easier than implementing sustainability actions in daily operations.
However, companies that truly embed sustainability into their business models and corporate governance can have a lasting competitive advantage.
A recent study by Nielsen9 shows that:
66% of consumers would spend more for a product if it came from a sustainable brand;
81% of global consumers feel strongly that companies should help improve the environment.
As shown below, 66% of respondents identified a high integration of sustainability topics within business strategy. Only 40% believed sustainability is integrated within daily operations.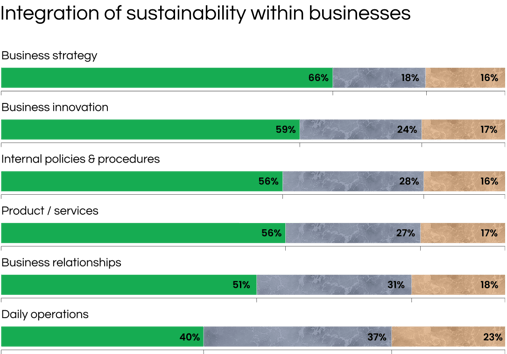 By analysing these results per industry, we find that:
The lowest levels of integration of sustainability into daily operations can be found within the Construction industry.


The highest levels of integration can be found among all aspects in the Consulting and Food & Beverage industries.


On average, both the Consulting and Food & Beverage industries present high levels of integration within innovation processes.
Strategy and business innovation are decided at the top level of the organisation. This is where the highest level of integration is achieved.
Daily operations seem to be the largest pain point when it comes to sustainability integration. The discrepancy between policies & procedures and business operations is an interesting one as these essentially dictate daily operations.
Given the level of seniority of our respondents, it could also indicate that although sustainability is part of the strategy of the organisation, this is not something that resonates on a day-to-day basis.
Combining these results leads us to believe that corporate sustainability is driven by top-down decisions rather than bottom-up action.
The level of sustainability integration within businesses
The sustainability maturity curve showcases the progressive transition of a company's approach to sustainability from compliance to purpose, where:
Compliance mindset - refers to a stage in which sustainability initiatives are put into place as a reaction to external market pressures;
Purpose-driven choices - that happen when businesses tie sustainability to their core to foster sustainable growth.
Based on our survey:
A little more than one-third of respondents' organisations sit on the "Beyond Compliance" stage;
Almost 20% of companies are "Compliant";
18% of respondents categorise their organisations as "Integrated" or "Purpose-driven".
It is interesting to see that our respondents indicated that sustainability is integrated into many parts of the business. Yet, are reluctant to place themselves on or beyond level 4 when it comes to their position on the maturity curve.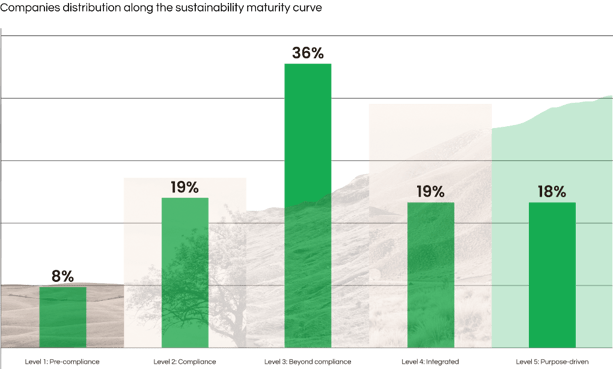 Challenges in getting sustainability initiatives off the ground
Based on the results from the sustainability maturity curve (Figure 13), we find that almost 30% of organisations are still at the compliance level.
Following are some of the main challenges experienced by organisations in our sample. Respondents in our sample noted:
Lack of resources (61%), such as time, finance, and personnel;
Limited knowledge and expertise (42%) as the main challenges they face when scaling sustainability initiatives and programmes.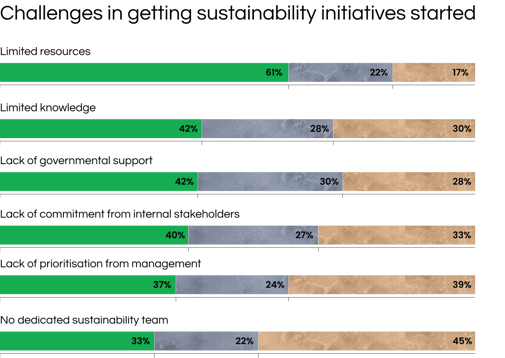 Other key challenges mentioned by respondents were:
Low commitment of the organisation to sustainability and difficulty in integrating sustainability with the company's culture (17% of respondents);
A growing number of regulations together with their high variability (14%);
High implementation costs (8%);
Lack of expertise and in-house knowledge (7% of respondents).
Nearly half (47%) of the respondents believed that their company is not investing enough in sustainability. The main explanations for this are the following:
Lack of resources;
Lack of commitment;
Lack of knowledge.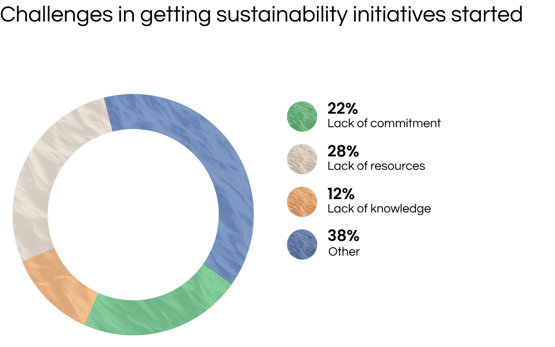 The challenges seem to be witnessed particularly by the Construction industry. In fact, almost 60% of respondents labelled the previous issues as key challenges. A further breakdown per industry follows.
Chemicals
Companies operating in the chemical sector have been dealing with environmental, health and safety issues for many years. Hence, sustainability is less of a new trend for the industry.
Nonetheless, a PwC study10 finds that players in the chemical industry are often approaching sustainability with a compliance-driven mindset. The former makes it harder to justify investments in innovation and green technologies.
58% of Chemicals CEOs claim to be prioritising investments in sustainability in the upcoming year. However, 40% of CEOs do not place sustainability at the top of their agenda11.
Construction
Our findings concerning the challenges witnessed by the construction industry are confirmed by a 2021 study12 published on the MDPI.
Particularly, it seems like the biggest challenge consists in investing financial resources to:
Advance the construction of green buildings;
Foster circularity in the sector.
Moreover, another barrier in switching to more sustainable materials or tools derives from a lack of knowledge and professional skills, which is detected especially within small- and medium-sized organisations.
Manufacturing
The three barriers to sustainable development are detected in the manufacturing industry as well according to a Mareana study13.
Specifically, businesses tend to fall into the misconception for which sustainability is expensive.
Moreover, lack of knowledge and lack of resources are challenges that go hand in hand.
Innovation and Industry 4.0 could offer interesting opportunities to make manufacturing more sustainable but resources are often not allocated to it or to the trainings necessary to upskill employees and gather the competencies that are needed.
Food & Beverage
Complex supply chains present an additional challenge to organisations in the Food & Beverage industry. In fact, sustainability performance is lacking the most according to an EcoVadis (2021) report14.
The main factors that hinder the development of more resilient and sustainable supply chains are:
Fragmentation;
Complexity;
Global Coverage;
Digital transformation and innovation represent promising solutions to overcome the previous hurdles. However, it requires knowledge and resources that are often not available in-house.
Finance, Legal & Consulting
Finance, legal and consulting firms outperform their peers in sustainability in-house knowledge, governance and reporting. This is supported by the Cross-Sectoral Average Sustainability Performance assessed by EcoVadis in 202015 which supports the findings in this report.
---
Our Recommendations

Define materiality
Some organisations find it daunting to complete a materiality assessment.
A common (and honest) mistake is to create a list of topics that grows each year. This makes it hard to focus.
When done correctly, a materiality assessment will support you in setting robust targets and communicating your organisation's impacts and priorities. ​
First, identify a long list of relevant topics. Then, identify your key stakeholders, survey and interview them to identify those topics that matter most. This will result in a condensed list of topics.
Then combine and cluster results to get to your material topics.
Lastly, use the material issues to guide your goals, targets and commitments. Remember that this is an iterative process and can be used to re-engage stakeholders over time.
Set priorities
Many clients struggle with defining how far their responsibility, or 'boundary', extends. Are companies responsible for upstream suppliers and the behaviour of downstream consumers?
This concept has been clarified with regard to emission scopes. However, it remains blurry when talking about social and human rights issues.
Use the materiality process to prioritise, condense and simplify your risks and opportunity across your value chain and do not end up with more than a dozen topics. Create a threshold based on the scale and likelihood of impact of each topic. This will help you to narrow down topics and cluster them around clear strategic pillars.
Engage stakeholders
The list of stakeholders can be very long and complex. This usually includes:
Business leaders;
Employees;
Investors;
Regulators;
NGOs;
Consumers.
Do not reinvent the wheel and use your existing networks. Channels such as customer satisfaction and employee engagement surveys can be a good starting point. Company intranets, groups, committees, etc. can become very useful in gathering insightful data about material topics for different stakeholders.
Set targets & KPIs
Reporting and gathering data is often mentioned as a challenge when it comes to corporate sustainability. It requires collaboration between different departments and clear identification of the right KPIs early on. However, creating SMART goals and setting targets is the only way to track progress over time.
Identify your largest impact hotspots and ensure the scope of your sustainability strategy reflects the real ESG impact of your business. Mapping your value chain and related impacts can be a useful exercise. The materiality assessment will also guide you in this process as material topics can be translated into KPIs. Set targets on those issues that matter the most to your business and collaborate with other departments to set common goals.
Integrate at every level
Sustainability should never be a 'tick-in-the-box' exercise. It should be embedded into every level of the organisation, from the boardroom to the shop floor.
The best way to achieve a high level of integration is by ensuring that everyone within your organisation understands your organisation's priorities when it comes to sustainability.
Engage upper management in key decisions

Set up workshops with other departments

Make sure that employees are trained on ESG issues that affect their daily work.





Include negative impacts
Our findings show that 'minimisation of negative impact' seems to be a secondary driver of sustainability in organisational decision-making. It is important to note that negative impacts can extend outside of your organisational boundaries. Organisations, therefore, need to involve stakeholders throughout the supply chain to accurately capture their impact.
In terms of negative impacts, ask yourself the following questions:
What is material to my organisation?

Which stakeholders are affected by what is material?

What actions are we taking to mitigate and adapt to negative impact?
Involve employees
Increasingly, employees want to feel a sense of purpose at work. Sustainability has a large role to play in this. Industries that have a notoriously large footprint on the environment are losing their top talent17. On the other hand, purpose-driven organisations are attracting and retaining more driven talent.
Involve your employees in sustainability matters and communicate actively on the topic. It can also be helpful to benchmark your organisation's performance against competitors and look towards industry leaders for inspiration. Collaborate with your HR department to understand their needs as well.
Communicate well
Internally, many sustainability managers find it challenging to include and engage senior management in sustainability initiatives. Externally, communication can be daunting when clear goals and commitments have not been made.
Focus on the big picture and the clear business value of becoming a more purpose-driven organisation.

Make clear why you are focusing on material topics and what the outcomes will be.

Engage business leaders throughout the process.

Agree on how sustainability initiatives and programmes are aligned with the company's long-term priorities and strategy. Strong internal communication will then also lead to a powerful external narrative.
Sources:
Businesswire (2021). Recent study reveals more than a third of global consumers are willing to pay more for sustainability as demand grows for environmentally-friendly alternatives

EcoVadis (2021). 2020 Index: A sustainable supply based leads to strong performance

UNEP SBCI (2009). Buildings and climate change. Summary for Decision Makers


SAP (2021). SAP Sustainability Research: Leadership is required to meet the moment

Deloitte (2021). Understanding Generation Z in the workplace

McKinsey (2010). How companies manage sustainability

CrowellMorning (2020). Sustainable Development: How can the legal profession contribute?

Forbes (2021). Why corporate strategies should be focused on sustainability

Nielsen (2015). 66% of consumers willing to pay more for sustainable goods

Pwc (n.d.). Sustainability in the chemical industry

Strategy& (2021). Sustainable impact, made real. Chemicals: From compliance to value creation

MDPI (2021). How lack of knowledge and tools hinders the eco-design of buildings - a systematic review


Mareana (n.d.). Top barriers to achieving sustainable manufacturing and how to overcome them

EcoVadis (2021). UN World food day: Food & beverage companies must target procurement to boost sustainability performance

EcoVadis (2021). UN World food day: Food & beverage companies must target procurement to boost sustainability performance

CEFIC (2021). Economic analysis of the impacts of the chemicals strategy for sustainability

Business Insider (2021). Google CEO says companies that fail to go carbon-free will lose the talent war