Using CDP as a Tool to Report on ESG Strategy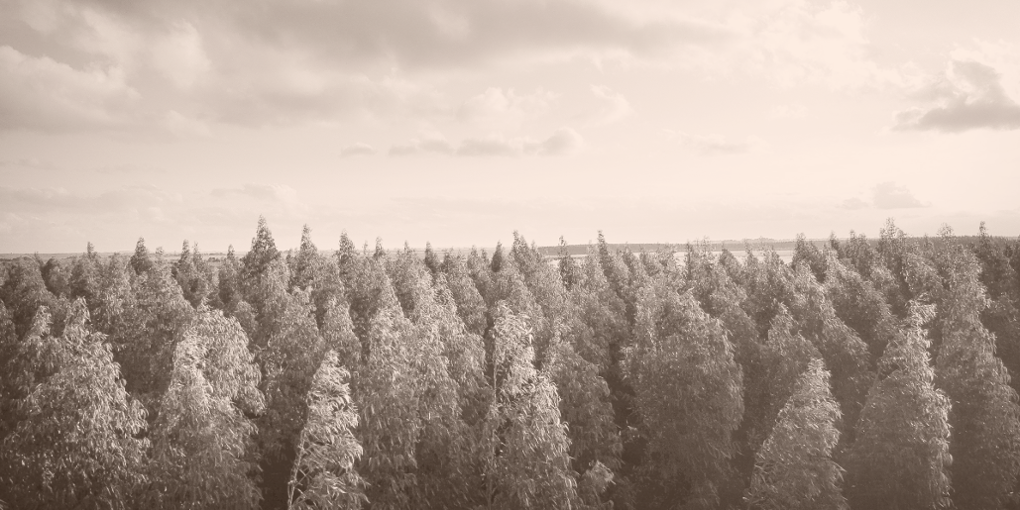 On December 7th 2021, the most recent CDP scores were released, publicly showcasing the environmental performance of over 13,000 organisations worldwide.
What is CDP?
Formerly known as the Carbon Disclosure Project. CDP is an NGO that aims to facilitate environmental reporting, not only for companies but also cities, states and governments. Its vision:
To build a sustainable economy by measuring and acting on environmental impact
With that, the organisation pioneered environmental disclosure by bringing investors and organisations as well as suppliers and customers together around environmental performance.
Every year, CDP releases self-assessment questionnaires that allow stakeholders to transparently and publicly communicate on their most environmentally relevant KPIs. The questionnaires cover 3 main topics:
Water;
Climate Change;
and Forests.
CDP in 2022
Investors and customers across the globe are requesting environmental data from their business partners. This is an attempt to reduce third-party environmental risks and participate in the corporate carbon reduction movement. Organisations aim to get in line with worldwide initiatives:
The assessment is considered a gold standard in the climate reporting field. The economy is turning to CDP for monitoring environmental data and performance of its business partners.
CDP has, since its beginnings in 2000, experienced a surge in popularity. In 2021, 13,000 organisations disclosed through CDP. That's 35% more than 2020 and over 141% more than when the Paris Agreement was signed in 2015 (source: cdp.net).
Moving on to a new year, an increasing number of companies are considering embedding CDP reporting in their sustainability strategies. Is 2022 be the year to start reporting through CDP?
Let's run through some insights, benefits, and practical recommendations on CDP reporting.
Important dates
Disclosure requests are to be sent in April
The Online Response System opens April 11
The submission deadline is July 27th, 2022
Facts & Figures
In 2021, a record-breaking 13,000+ companies representing over 64% global market capitalisation disclosed through CDP. This is 35% more than last year, and over 141% more than when the Paris Agreement was signed in 2015.
Out of the total of 2021 responses, 99.5% of CDP respondents disclosed on climate change, making it by far the most popular service.
Every year, CDP publishes the most performant companies in terms of environmental disclosure. In 2021, 200 companies have made the climate change A-List (access the full ranking here)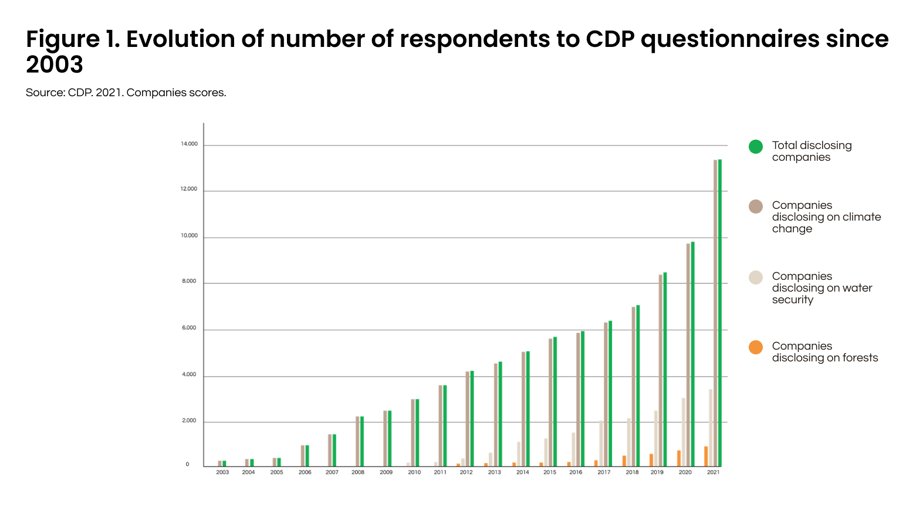 The benefits of CDP Disclosure
Overall benefits
Boost your competitive advantage. The business case for sustainability is today a common understanding. A wide array of research on the topic has successfully demonstrated that sustainability strategies come with operational efficiency, lower costs and increased reputation (Source: Whelan & Fink's research (2016), or Porter & Kramer (2011)).
Transparently reporting on sustainability brings about similar effects.
In fact, reporting on sustainability has been associated with:
Enhanced cost-saving strategies;
Heightened risk identification opportunities;
Better strategic planning;
Bringing forward a competitive edge over non-reporting peers.
In addition, brand reputation has been listed as a key component of the benefits that CDP reporting can bring forward. An internal CDP study reports that 70% of responding organisations claim that reporting through CDP improves their reputation (cdp.net).
Get ahead of regulatory obligations. More stringent compliance obligations are yet to come in the field of corporate sustainability. Transparent CSR reporting takes the highlight in this field, both in the EU and worldwide. In the EU, the Non-Financial Reporting Directive (NFRD) already brought sustainability reporting obligations to large companies in Europe since 2018.
The upcoming Corporate Sustainability Reporting Directive (CSRD) will include a significantly broader range of companies. The directive will highlight reporting on environmental matters as an essential requirement from 2023 onwards. All in all, reporting on environmental matters is preparing for what is undeniably yet to come. Mandatory sustainability disclosure, including greenhouse gas emissions reporting, and disclosure of targets for (scientifically proven) carbon reduction strategies.
Alignment with frameworks. A large benefit of the CDP methodology lies in its alignment with various sustainability assessment, reporting and frameworks. For instance, CDP is aligned to the TCFD (task force on climate-related financial disclosure).
Disclosing through CDP makes organisations compliant to the TCFD reporting recommendations (see more here). Additionally, reporting through CDP allows companies to increase their environmental scores on EcoVadis assessments.
Whelan & Fink's research (2016), or Porter & Kramer (2011)
Supply chain focus
Disclosing through CDP for supply chain transparency increases organisation's chances of contractual partnerships. Studies from CDP show that 63% of requesting organisations are using this data to choose whether or not to contract a supplier.
Similarly, the chances of maintaining contractual relationships are increased. There is a global movement of supplier sustainability assessments and tighter contractual requirements. The same study concludes that 43% of organisations will deselect a company based on their environmental performance (source: CDP).
Investment focus
One of CDP's main advantages lies in the inclusion of ESG criteria in financial decisions. Disclosing on environmental impact has proven to be very successful in the world of investments. It is used to inform investors and increase visibility, as well as exposure to new investments. CDP data is being used by a variety of ESG ratings, which makes it a strategic tool to attract investments.
Click here for more information on the ROI of sustainability.
CDP in Practice: The Climate Change Questionnaire
Questionnaire Contents
The questionnaire – or ORS – is where companies can disclose their climate change data. The core contents of the survey can be summarised as follows:
Governance and strategy (chapters 0-3)
This first part focuses on the general description of the organisation, such as industry, products, services, and countries of operations. It looks at governance information (i.e., responsibilities to tackle climate-change-related issues, the role of the board, management, and organisational structure). It will seek to gain information on whether climate is part of the organisational strategy and financial planning. On top of that, the questionnaire aims to investigate whether organisations have sufficiently identified climate-related risks and opportunities.
Targets and Performance (chapter 4)
This chapter focuses on the types of targets with regards to carbon reduction. These could be absolute or intensity targets. Chapter 4 also includes the types of ongoing initiatives in place to reach these targets.
Emissions data (chapters 5-9)
Importantly, this section focuses on the tangible metrics assessed to monitor environmental performance. This includes the emissions data: scope 1, 2, 3.
Emissions breakdowns: type of greenhouse gas assessed, geographical locations, and/or, business divisions. As well as energy data. This section also focuses on the methodology used in the process, and the alignment with external standards and protocols.
Additional information (chapters 10-12)
Lastly, additional information is sought to provide context and evaluate best practices. Examples of additional information include third party data verification, carbon pricing, and engagement. The engagement part looks into whether organisations interact with their value chain on climate action, and how.
Scoring Methodology
Based on the information filled-in in through the ORS, CDP will award organisations with a score from D- to A.
The proof evaluated is entirely redacted, and the assessment does not request documentation to support answers.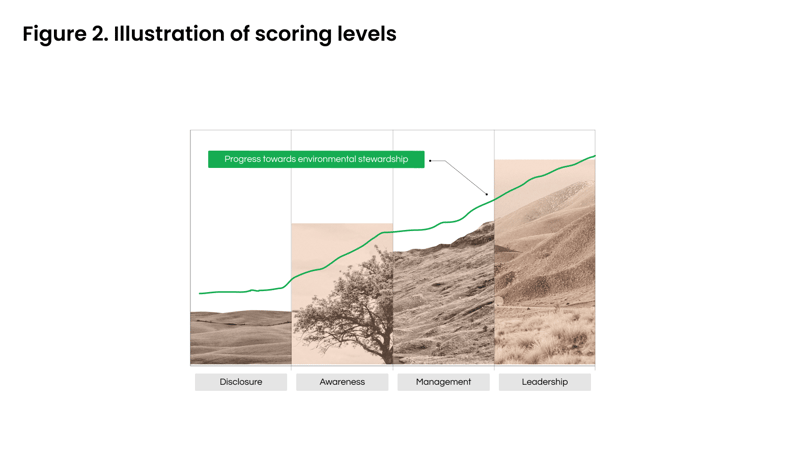 | | |
| --- | --- |
| Disclosure (D-, D) | Such a score indicates that the organisation is transparent about its environmental and climate-change data and practices. |
| Awareness (C-, C) | Awareness reflects that some issues are addressed and that risks and impacts are recognised. |
| Management (B-, B) | Management means that several actions and strategies are in place to tackle climate change issues. |
| Leadership (A-, A) | The organisation implements climate-change best practices and is considered to lead the way in this field. |
In addition, an F can be granted if the organisation fails to provide information to CDP. In other words, not responding to the disclosure request.
How to prepare for the CDP assessment
Here are a couple of tips and best practices to prepare for the CDP questionnaire.
Have your CEO involved in the process. As CDP is looking for leadership positioning, it is important that executives know about GHG figures and targets.
Know your climate-related risks and opportunities prior to completion;
Have your carbon emissions calculated prior to completion;
Have carbon reduction targets in place prior to completion ;
Scope 3 emissions are harder to assess. Try to at least have one item of scope 3 calculated (e.g., business travel);
Have a verified carbon footprint. Data verification by an external party will add credibility and contribute to additional points.
If reporting through CDP is part of your 2022 strategic goals, here is information regarding the timeline of the CDP cycle:
Curious about how we can help?