How To Promote Diversity and Inclusion Within the Workplace
A Case Study Approach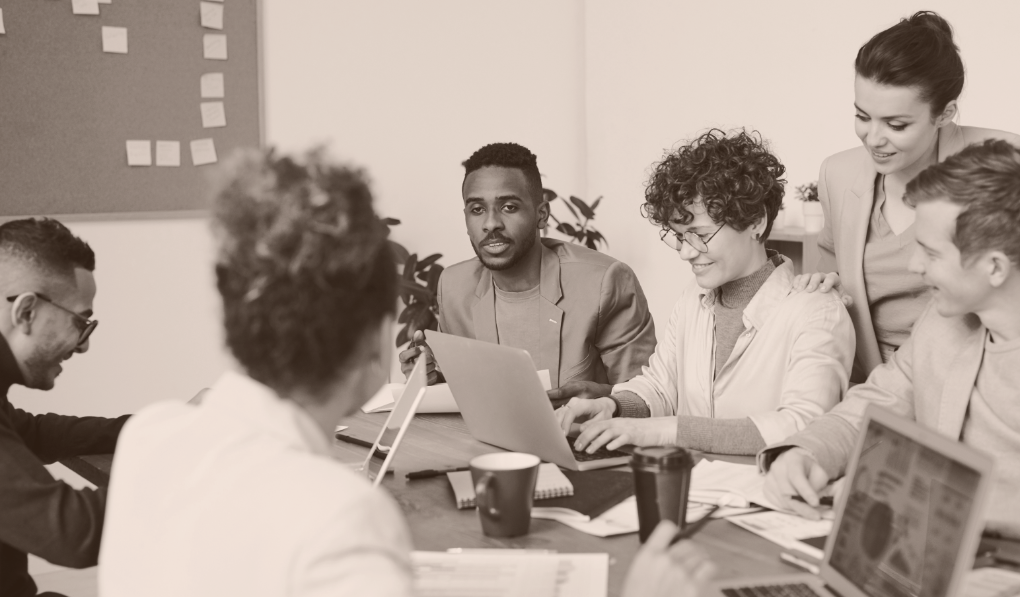 Understanding the concept of diversity and inclusion
According to OECD research (2020), our societies are witnessing rapid transformations. A few examples:
Women participation rates in the workforce grew from 61% in 2000 to 69% in 2018;
Employment rates of older workers are increasing with 59% of individuals in the age group 55-64 employed in 2016;
15% of the working-age population reports being diagnosed with a disability or long-lasting health problems that impact their daily life activities;
Almost one out of ten people living in OECD countries is foreign-born.
Diversity and Inclusion (D&I) are increasingly considered critical performance drivers. Nonetheless, figures across the world and industries suggest that room for improvement still exists.
Despite the progress over time concerning gender parity across the corporate hierarchy, women are still underrepresented, especially when considering leadership positions.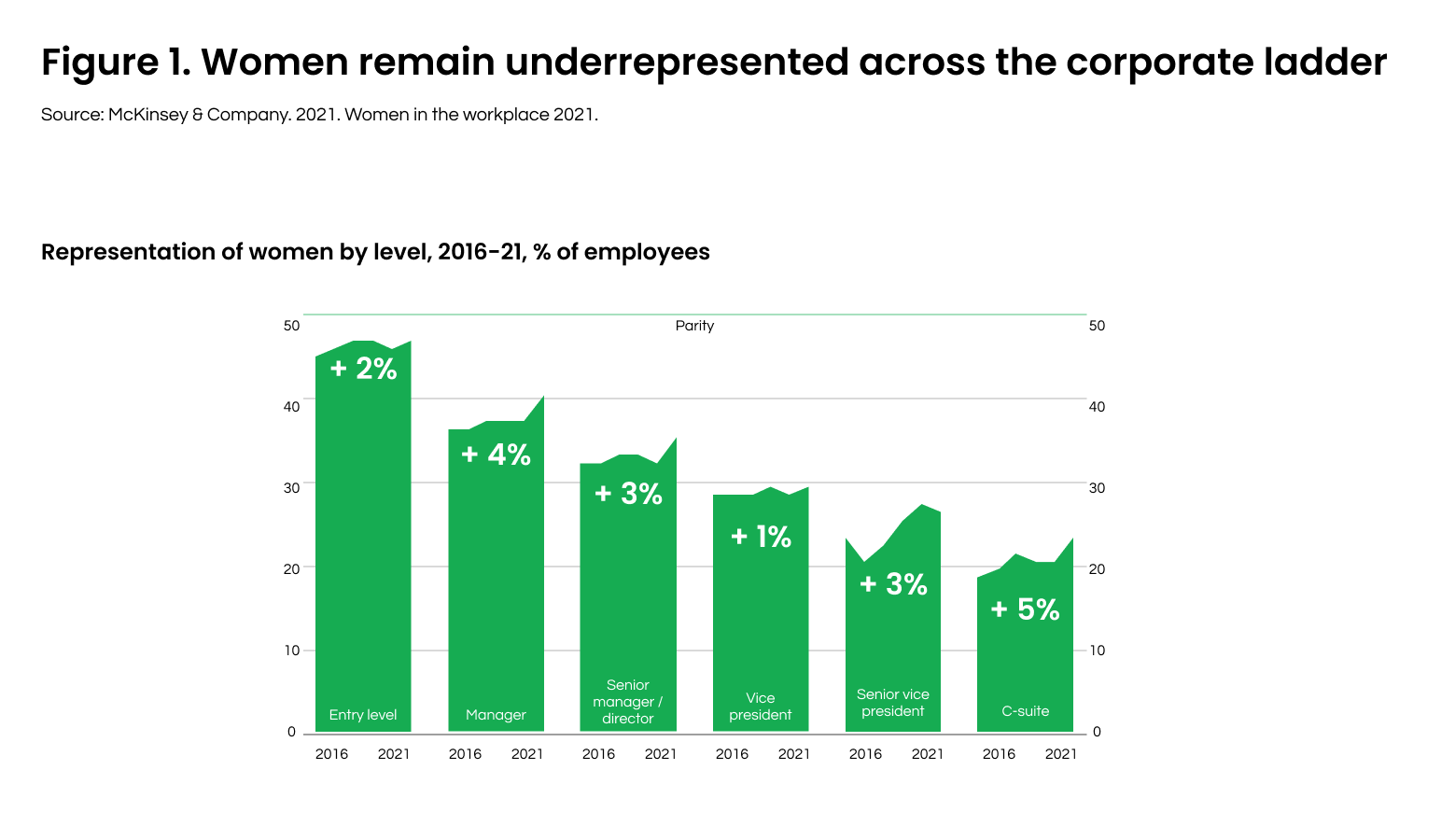 According to McKinsey statistics, female executive representation remains below 25% across the major industries. Healthcare comes in highest with an average female executive representation of 24%, whereas this value crumples at 18% within the heavy industry.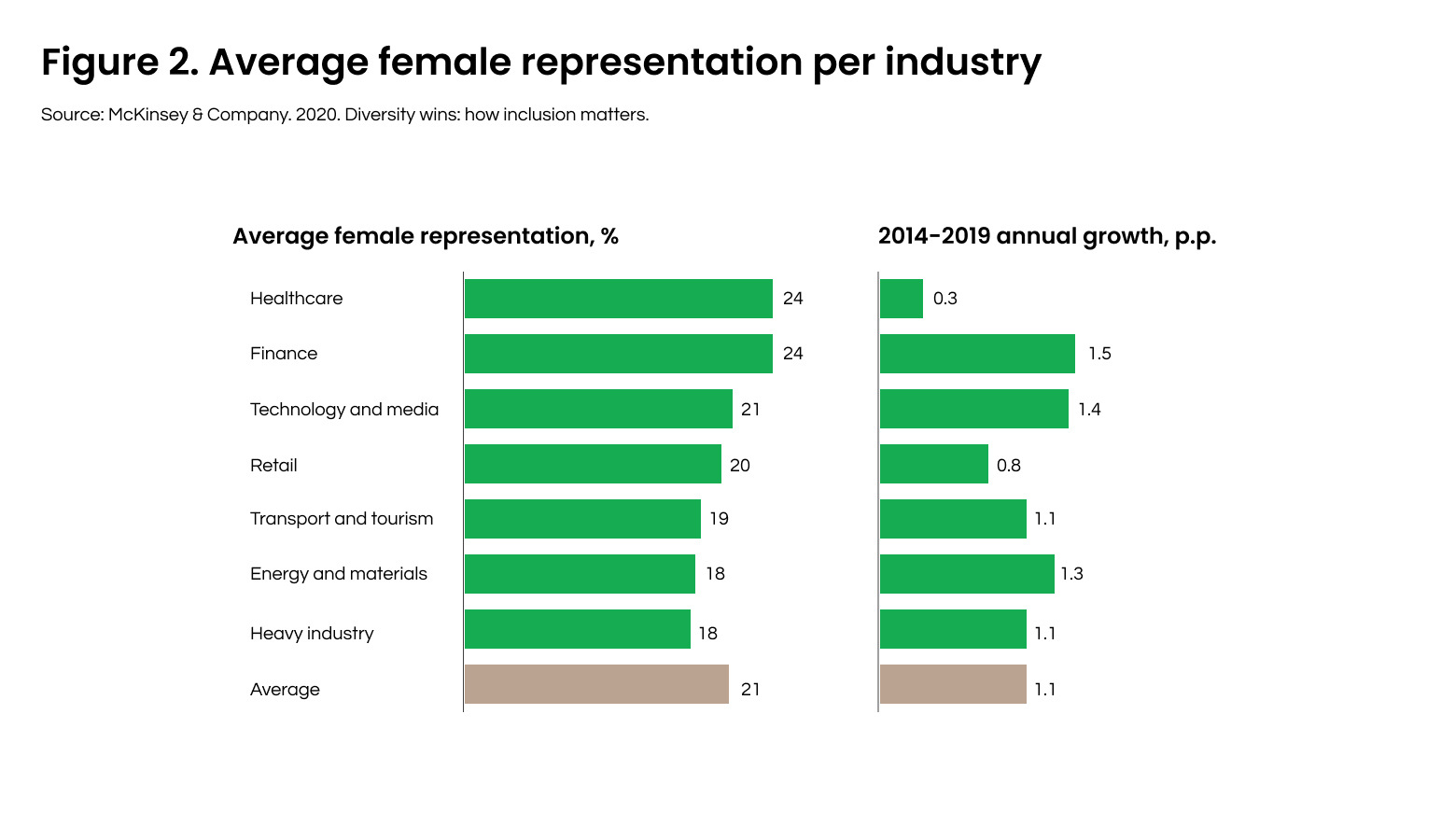 When it comes to ethnicity, the gap is even wider. Women of colour are represented in C-suite positions five times less than caucasian women.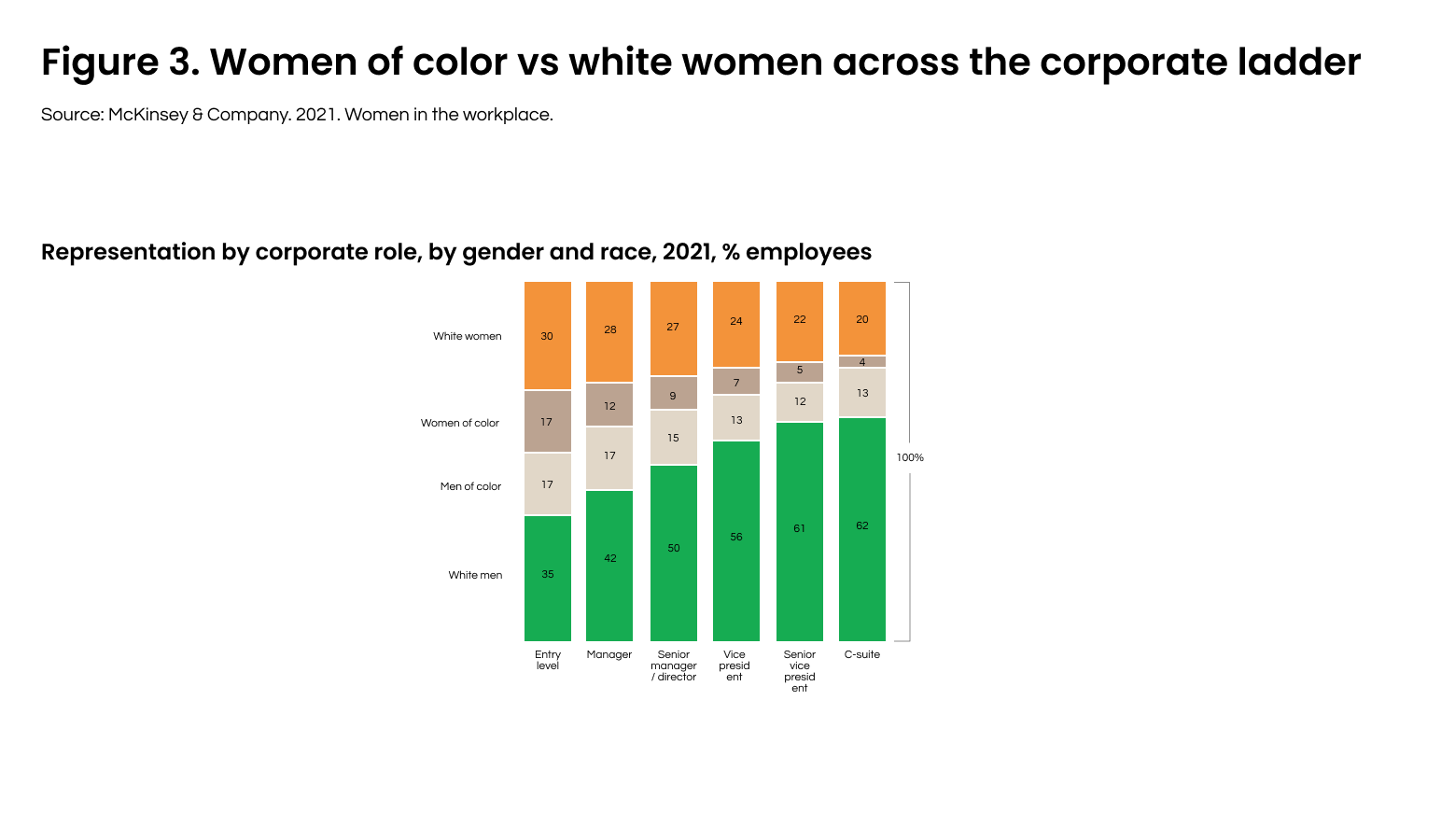 Nevertheless, diversity and inclusion entail much more than race and gender.
Diversity refers to all those differences that make individuals unique. They can span from gender and ethnicity to age, culture, sexual orientation, location, and physical and mental abilities.
The power of diversity can spread only if accompanied by inclusion.
"Inclusion is the process of creating a working culture and environment that recognizes, appreciates, and effectively utilizes the talents, skills, and perspectives of every employee, so that every employee feels valued for their unique qualities and experience a sense of belonging"

(Source: US DHUD)
As stated by a Harvard Business Review article, "in the context of the workplace, diversity equals representation. Without inclusion, however, the crucial connections that attract diverse talent, encourage their participation, foster innovation, and lead to business growth won't happen".
Next to Diversity and Inclusion, the JEDI Framework adopted by B Lab also considers Justice and Equity, where:
Justice aims at guaranteeing to all individuals and communities the possibility of living a full and dignified life;
Equity can be obtained by setting in place policies, processes and initiatives that create a fair, safe and just working environment.
Why is diversity and inclusion in the workplace important?
Behind the creation of a diverse and inclusive workplace, there are not only ethical reasons but multiple other motivators. Studies showcase how diversity and inclusion foster businesses' competitive advantages and translate into higher levels of performance.
The main benefits are identified in the following areas:
Decision-making

Diversity brings multiple perspectives and experiences to the table when facing problems, thus spurring out-of-the-box thinking and creative solutions. Moreover, diverse teams are usually more objective and individuals part of diverse teams tend to be more aware of their own potential biases. Through inclusion, employees are more likely to feel valued and to contribute.
Innovation

Diverse and inclusive teams are generally more innovative and able to anticipate new consumption trends. Businesses with cultural diversities in the leadership teams are more likely to develop new products compared to those with homogenous leadership (Forbes, 2020).
Employee motivation and satisfaction

A workplace that values each employee and allows them to be themselves is more likely to witness higher levels of employees' motivation and satisfaction.
The mutual effect of these advantages reflects on business profits. A 2019 McKinsey & Company analysis shows that companies with higher gender diversity on executive teams were 25% more likely to have higher financial returns than those with lower diversity (Figure 4).
Policies and directives around diversity and inclusion
Companies that are lacking action under the diversity and inclusion perspective not only lose an important level of competitive advantage, they also risk facing legal consequences.
According to OECD, virtually every member country has anti-discrimination legislation in place.
For example, within the European Union Member States organisations are obliged to adopt the Racial Equality Directive and the Employment Equality Directive.
The adoption of measures to respect these directives at the national level forces companies to take action concerning unfair behaviours.
Moreover, each Member State has developed a Diversity Charter. Companies interested in promoting D&I within their workplaces are encouraged to sign the Charter of their country.
The Dutch Diversity Charter has been released in 2015 and it revolves around work capacity, ethnic and cultural diversity, gender, age and LGBTI+.
Signatories companies are requested to follow this process:
Commitment - By signing the Diversity Charter the organisation commits to a particular challenge related to diversity and inclusion;
Plan of Approach

- After six months from signing, the organisation has to release a Plan of Approach to explain how the challenge is going to be tackled;

Reporting - Every year the entity has to report on its progress.


Case study: Kaiser Permanente
Kaiser Permanente (KP) is a virtuous example of commitment to diversity and inclusion in the workplace. KP is a nonprofit health care organisation located in the US.
The company excels in ethnic diversity with 67% of employees being members of racial and cultural minorities.
Women's representation within boards equals 38%, whereas 46% of board members are people of colour.
In 2020, gender balance was achieved among CEOs' direct reports, with 53% of them being women.
KP has the following inclusion strategies in place:
Attracting, retaining and advancing women;
Recruiting and supporting employees from minorities groups;
Leadership development for managers from underrepresented groups;
Talent programmes to facilitate and support individuals with disabilities.
Furthermore, KP undertook the following actions to deliver on the commitment to racial equity and social justice issues in 2020.
KP has activated dialogue sessions with employees and managers to cope with racism in America and provide a supportive space for them;
Managers have received action guides to foster awareness, education and engagement on the issues of racial equity and social justice;
KP has produced a webinar series for employees on the topic of Equity and Inclusion;
The program Belong@KP has been launched to overcome bias, racism, and social injustice and promote a fair and just working environment where people feel safe.
Conclusion
Taking inspiration from KP, we can summarise key actions to start implementing within your organisation to become a more inclusive company:
Represent diversity and inclusion throughout the entire organisational ladder;
Support executives in developing skills of inclusive leadership by promoting employees' participation in decision-making, taking advice and implementing feedback, and acknowledging the team's successes;
Create an authentic working environment, where everyone feels included and valued. Firmly intervene when unfair behaviours occur and set in place a system that facilitates identifying and reporting aggressions;
Create a sense of community and belonging and assess it regularly through internal surveys.