Nexio Projects Starts A Book Club
Discussing the social responsibility of corporations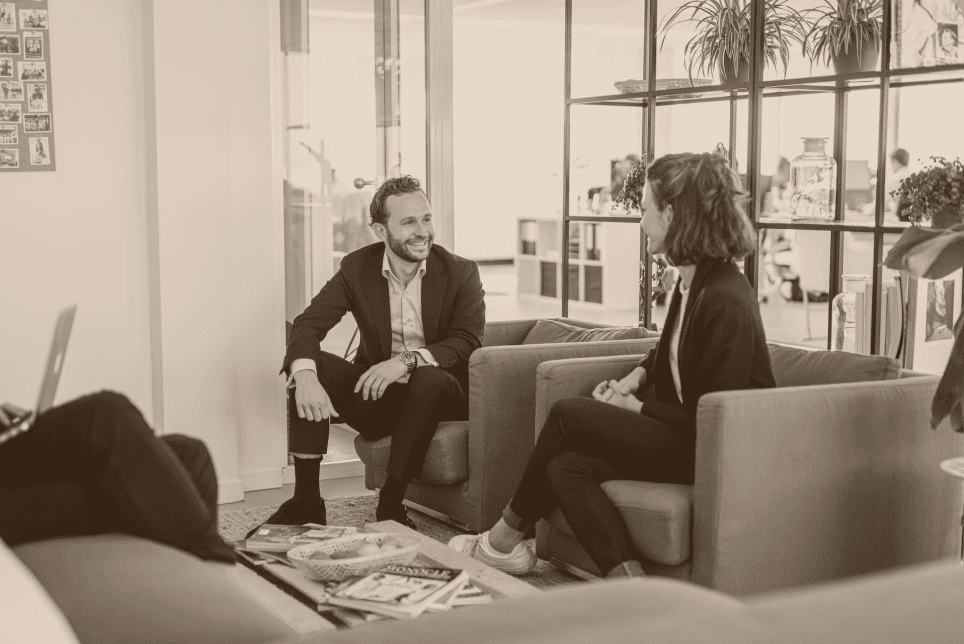 Good Society Reading: The Social Responsibility Of Corporations
At Nexio Projects, we realize that continuous learning, unlearning and re-learning are key for us to grow and develop as a team of sustainability professionals. Operating in a field where so much remains undefined and where new concepts, frameworks and guidelines appear on a weekly basis makes staying informed particularly important.
As a result, we've kick-started multiple initiatives to facilitate and drive debate and discussions in the office. One of these initiatives is our monthly Lunch & Learn session, where one of our team members presents their findings on and go in-depth into a certain sustainability-related topic. This month, we looked at the ISOs, while we learned all about B Corporations last month.
Aside from these team activities, many members of the team also spend their free time reading, watching documentaries or educating themselves in another way. It's therefore quite common for members to make recommendations to one another. A joke was floated about starting a book club, and before we knew it, the Good Society Reading was brought to life after doing a quick poll in the team.
From shareholder to stakeholder capitalism
A few weeks after its original inception, we launched the inaugural Good Society Reading meeting, which addressed the age-old question of 'The Social Responsibility of Businesses – shifting from shareholder to stakeholder capitalism'. In preparation for the session, the team was asked to read Milton Friedman's 1970 seminal article "The Social Responsibility of Business is to Increase its Profits" and watch Alex Edmans' 2015 Ted talk "The Social Responsibility of Business."
To provide some context, Friedman, one of the intellectual leaders from the Chicago School of Economics, emphasised that the social responsibility of corporations was towards its shareholders and therefore maximizing profit. In other words, he claimed that the 'business of business is business'. He claimed that when corporations invested in corporate responsibility, they took money out of stakeholders' pockets. The article, published 50 years ago, was written from a point of view focused on profit as the sole interest of a corporation. An investment in any social cause was seen as an inevitable loss of profits.
Alex Edmans, on the other hand, and adding some nuance to the debate, expresses that caring for society does not come at the expense of profits, but rather enables profit creation. His extensive research looks at profit and employee wellbeing, where he finds that the companies who invest in employee wellbeing consistently outperform their peers by 2-3% per year over the last 20 years. This is after controlling for industry, company size and geography. In his Ted Talk, he also addresses investors as key stakeholders in shaping the future of business and the priorities of companies.
With this in mind, the discussion ensued….
Discussion
In order to guide the discussion, a list of questions regarding the social responsibilities of key stakeholders (whether consumers, employees, managers, investors, communities and the public sector to name a few) was prepared and discussed during the session. Additional questions framed the debate such as:
What should the social responsibility of business be?
How far does it go and where do its boundaries lie? Who should corporations be accountable to?
How can organisations integrate their stakeholders and their interests into decision making?
How can they create the much needed trust?
What issues should they focus on and which stakeholders should be included? How?
What actors can drive the shift from shareholder to stakeholder capitalism?
Can we really have it all?
How do you deal with winners and losers and the inherent tradeoffs that exist?
Can "collectivist ends be attained without collectivist means" as Friedman puts it?
How can you best measure impact of an organisation on stakeholders?
Materiality and the concept of comparative advantage
There was a consensus that corporations should start their social responsibility journey by going through a materiality assessment and focusing their impact on issues where they hold a social comparative advantage, i.e. where their operations had the most impact. Our Climate Team Lead, Leon Laubscher, referenced the concept of CSV (creating shared value), a concept identified by Michael Porter to replace the concept of CSR by working with supply chain partners to improve sustainability and thereby create shared value throughout the value chain. He mentioned the efforts of Nespresso to work with their coffee farmers to improve farming practices which has raised their incomes and the quality of their coffee. "By just focussing on profit, you're not maximizing profit" he added.
The need for reimagined capitalism
When discussing the role of social, political and economic structures in influencing the intentions of a company, be it profit-maximizing or a focus on sustainability, several interesting points were raised. The role and perhaps even moral duty of corporations to leverage and drive legislation towards progress and a more just world (as pointed out by economist Rebecca Henderson) was seen as one solution. The concept of the Doughnut Economy, pioneered by Kate Raworth, was also used to make a point about how current economic structures would need to evolve and change to meet all humanity's needs but within the planetary limits
What we think the social responsibility of companies should be
We concluded that profit is important for the long-term viability of a company in the current global economic structure, but also that improving sustainability has proven financial benefits in the long-term. Therefore, according to Friedman's logic, if the sole responsibility of a corporation is to maximise profit, it has to also focus on sustainability in order to do so.
As a purpose-driven company, we at Nexio have already embedded sustainability into every task that we conduct. The inaugural Good Society Reading meeting helped us clarify our intentions to push and aid our partners and customer in finding their true sustainability purpose.
What do you think the social responsibility of corporations is or should be?