The ESG Strategy Starter Pack
The tools you need to begin or level up your sustainability journey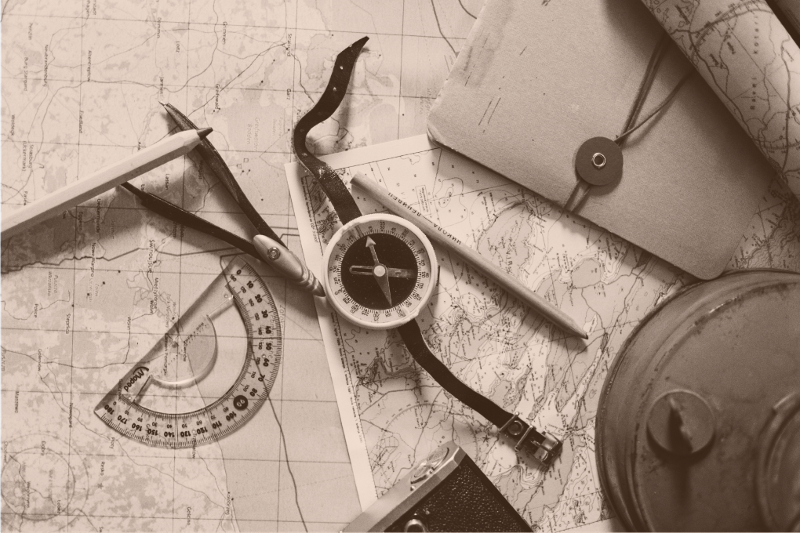 Sustainability is all over the news
96% of G250 organisations disclosed their sustainability performance as of 2020.
More than 2.000 companies set science-based carbon targets.
Approximately 1/3 of Europe's largest companies are committed to reaching net zero by 2050 (Harvard Business School, 2022).
With this data in mind, do we need any more proof that sustainability is becoming integral to corporate strategy?
In this piece, we discuss the key steps organisations should follow to build a solid Sustainability Management System (SMS) and develop a successful sustainability strategy.
Before we get started, what do the terms revolving around sustainability, specifically ESG, or CSR, really mean?
The official definition of sustainability has been put forward in 1987 by the United Nations Brundtland Commission. That is, "meeting the needs of the present without compromising the ability of future generations to meet their own needs".
While CSR's end goal is to embed sustainability in the core of an organisation, ESG is associated more with finance. It refers to the discipline of including extra-financial indicators into the portfolio and organisational performance. This data is reported by organisations and used by various stakeholders to drive decision-making.
Still, CSR and ESG shift the purpose of an organisation from sole economic profit to the wider goal of maximising positive environmental and social impacts while simultaneously mitigating the negative impacts.
The pillars E, S, and G
Breaking down the concept of ESG, the following are the three main pillars on which organisations can build their sustainability strategy. Before starting, it is important to know that these are broad concepts, and the specific relevant topics differ per organisation.
E – Environment focuses on the impacts that an organisation has on the environment. Energy consumption, waste disposal, natural resource consumption and emission generation are all relevant examples.
S – Social speaks to the way an organisation manages its interactions with society. This pillar answers questions like:
Does the organisation encourage diversity?
Are there policies and procedures in place to notify discrimination cases?
Is the company engaging with local communities to mitigate its impacts?
G – Governance refers to the entire set of internal practices, controls, and procedures that regulate decision-making, due diligence, and internal management.
A step-by-step approach
Approaching sustainability for the first time can be a daunting task. We recommend breaking down the process into the following steps:
Understand your context;
Develop your ESG strategy;
Create an action plan to deliver on ambitions;
Report on your sustainability performance;
Validate your efforts.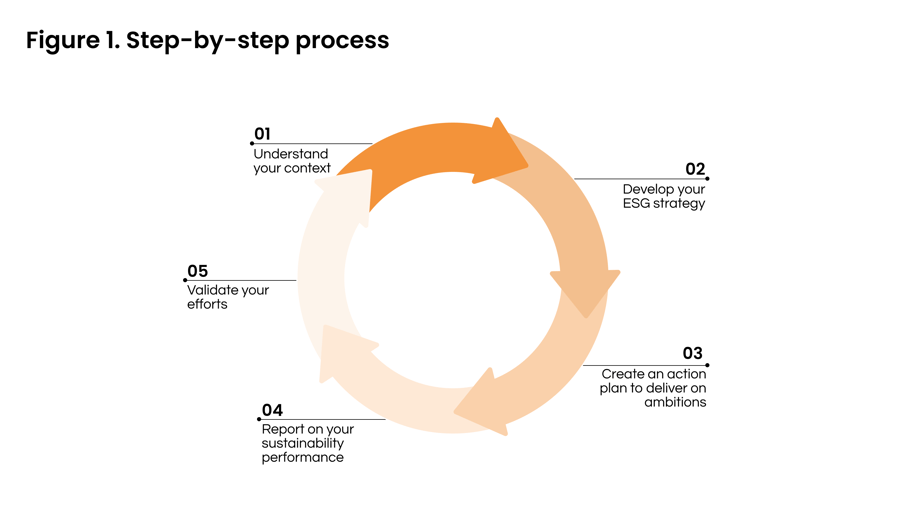 Step 1 - Understand your context
As previously stated, an organisation's impacts spread well beyond its gates. As much as we encourage to be accountable for the generated externalities, we also know that it is impossible to do everything.
As with most things, it is better to narrow down your focus and prioritise the most compelling issues. That is where the concepts of stakeholder engagement and materiality analysis come into place.
Both GRI and SASB Standards request reporting entities to undertake a process of materiality analysis by engaging stakeholders to identify the most relevant (material) ESG issues for them both.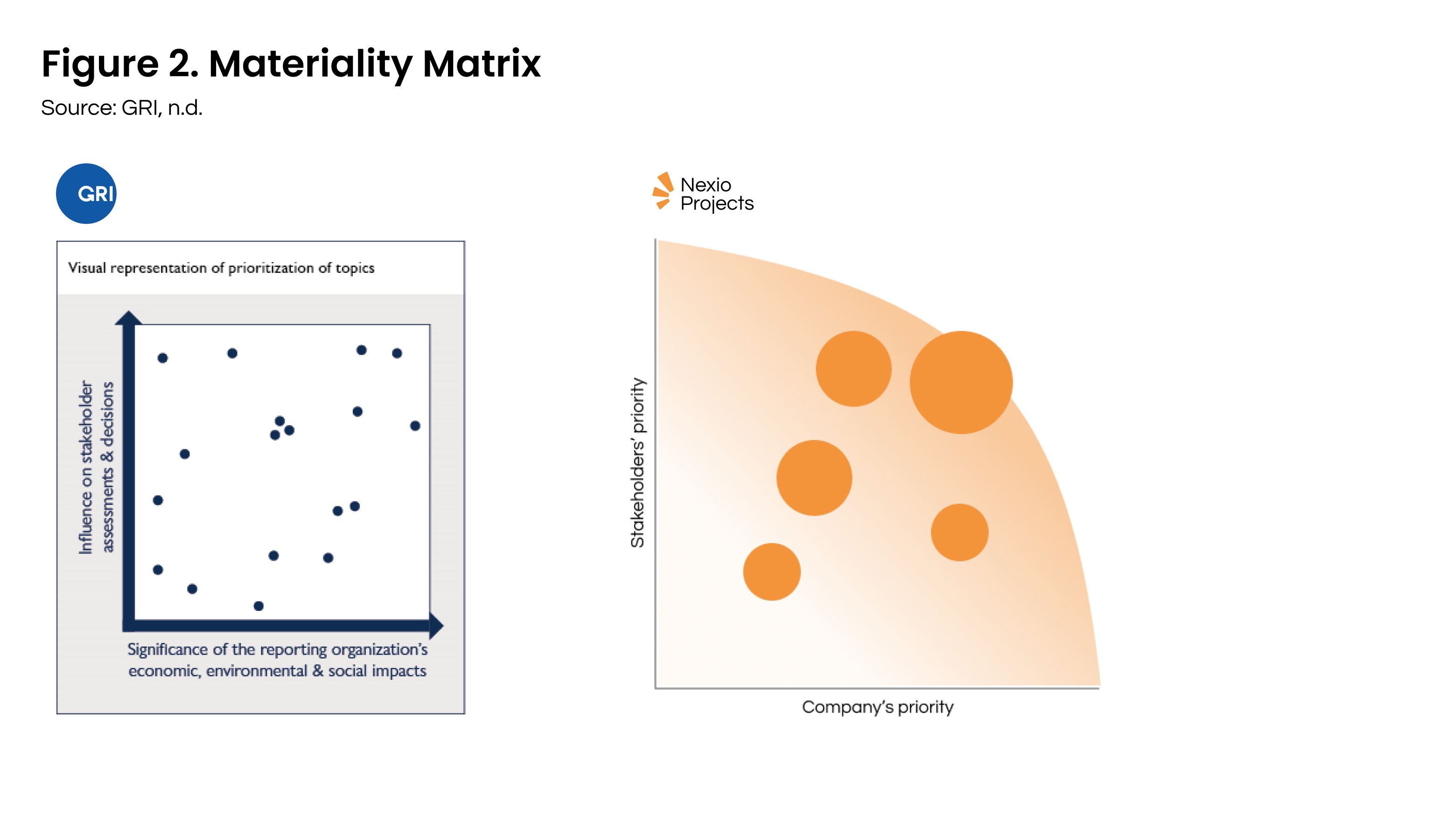 If you'd like to learn more about this first phase, you should read our eBook "Guiding You Through the Materiality Assessment".
Step 2 - Develop your ESG strategy
Once you identify your main impact areas, you are ready to move on to strategy development.
As a starting point, you could endorse global initiatives, such as the SDGs or the UNGC. This will help you to define goals and interesting opportunities for your business.
The SDGs (Sustainable Development Goals) have been adopted by the United Nations in 2015 to define the global roadmap toward sustainable development. As much as they are often discussed at the country level, organisations can integrate them within their action plans and base their goals and targets on the SDGs.
The UNGC (United Nations Global Compact) consists of a global initiative for organisations to align their strategies to 10 Universal Principles regarding:
Human Rights;
Labour;
Environment;
Anti-corruption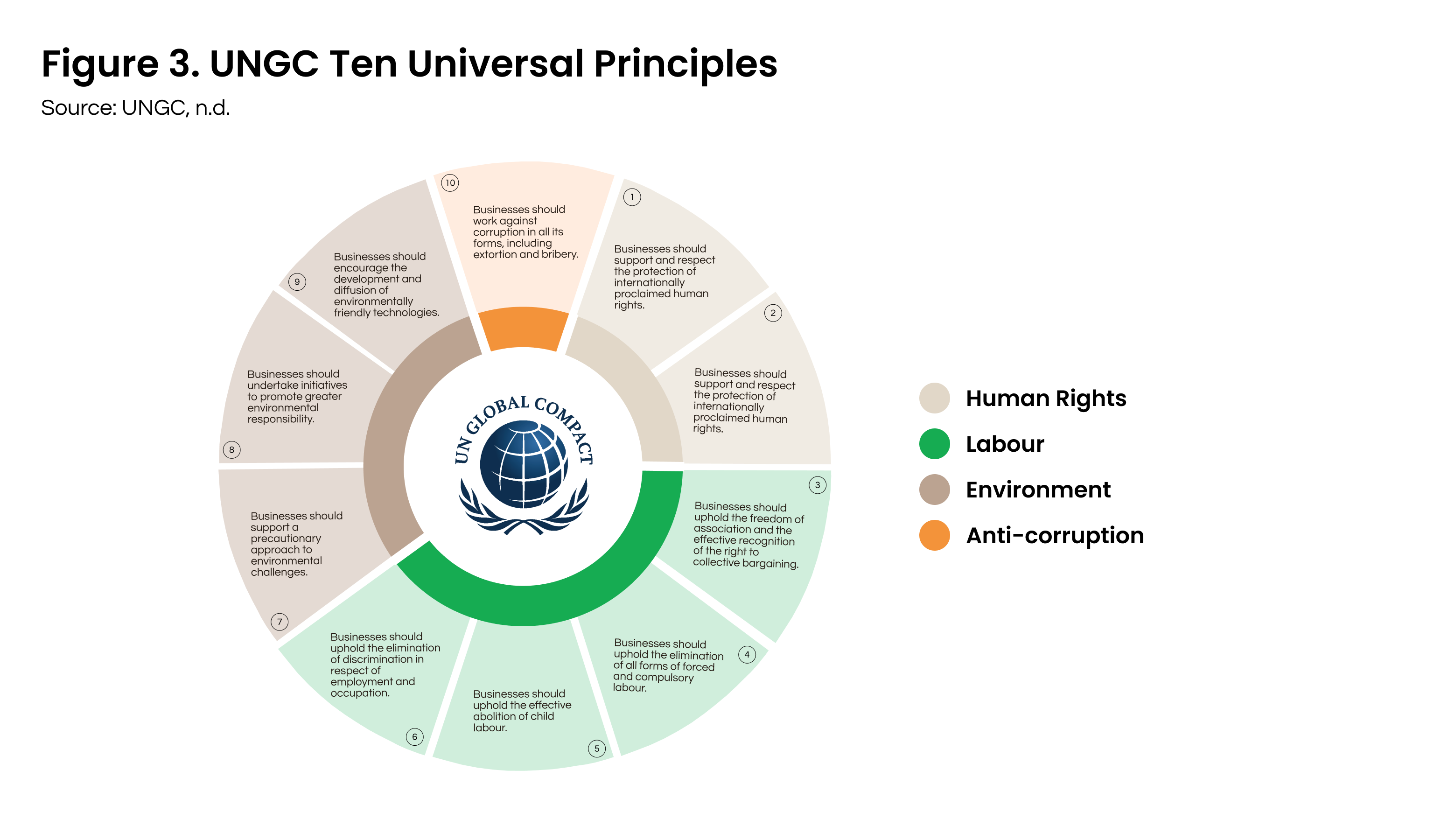 For organisations already part of the UNGC or about to commit, it's good to know that the Communication on Progress is undergoing a revision process and will be updated by 2023. To learn more about what to expect and how to prepare, you can download our free factsheet.
Looking at climate ambitions, the SBTi (Science Based Targets Initiative) offers a framework for organisations to set emissions reduction targets in line with the Paris Agreement.
Today, almost 3500 companies joined the initiative and started their journey towards net-zero.
Finally, when defining your goals, we would recommend the SMART framework. This means your goals should be:
Specific;
Measurable;
Achievable;
Realistic;
Timely.
If you are struggling with goal setting, you could check the extensive list of KPIs provided by the GRI Standards and elaborate sustainability targets tailored to your organisation starting from there.
Step 3 - Create an action plan to deliver on ambitions
By setting clear goals, you identify where you want to go. What is still missing is an action plan that will secure reaching your ambitions.
To do so, it's time to set up your Sustainability Management System (SMS).
An SMS allows you to identify the actions you need to implement to achieve the strategic goals you set in step 2. Moreover, through an iterative process, you'll systematically review the progress you've made and develop corrective actions when needed.
Key elements of an SMS range from policies, procedures, innovative practices and technologies, and training for your employees.
To identify the main focus areas and the gaps in your SMS, conducting an EcoVadis Assessment can be an effective way to go.
Through the EcoVadis rating, your entire set of policies and procedures will be reviewed. Afterwards, you'll be provided with a list of corrective actions to guide you in improving your SMS.
Step 4 - Report on your sustainability performance
At this point, you need to follow the action plan and move toward your objectives. And what better way to keep yourself accountable than having to report the achieved results regularly?
Regarding reporting, we shall distinguish between internal and external reporting, as the two serve different purposes.
Internal Reporting
Crucial elements for internal reporting are target setting and KPIs (Key Performance Indicators). They feed your Sustainability Management System with data related to how you're performing against your goals.
Tracking KPIs helps you track how you're progressing towards your desired results. Moreover, it makes it easier to report your performance at the end of the year.
If you're struggling in developing your set of KPIs, our KPIs Cheat Sheet we'll help you overcome the challenge!
External Reporting
Speaking of disclosing sustainability performance, it's time to revert to stakeholders and communicate the progress your organisation has made. This is one of the purposes of external reporting.
Sustainability reporting also serves the purpose of informing your audience about the main obstacles you encountered and how you intend to act to overcome them.
The sustainability reporting realm is overflowing with different principles, standards, and frameworks.
Today, the GRI (Global Reporting Initiative) is the most used standard. According to WBCDS, 87% of sustainability reports cited the GRI Standards in 2019.
GRI Standards include both topic- and sector-specific standards. These help organisations communicate what matters most to them and their stakeholders.
Within the EU, we can expect the new CSRD (Corporate Sustainability Reporting Directive) to come into force in 2024. Organisations that will be in scope are all listed companies and those that meet at least two out of the three following aspects:
More than 250 employees;
More than 40 million turnovers;
More than 20 million on the balance sheet.
The new CSRD will likely be heavily based on the GRI Standards and aims to consolidate reporting frameworks to reduce confusion and improve the quality and comparability of non-financial disclosure.
Step 5 - Validate your efforts through external ratings and certifications
In this article, we highlight the external validation of your SMS as the last step. Nevertheless, you must keep in mind that this process should be iterative over time.
The end goal should not only be to achieve external recognition through ESG ratings or certifications.
As anticipated in step 3, ESG ratings and certification can be a great tool to identify the weaknesses of your SMS. By executing the recommended corrective actions, you will strengthen your SMS and bring the sustainability strategy to the next level.
Secondly, going for verification through an external third party can benefit your organisation in multiple ways. ESG ratings and certifications can:
Provide you with external validation;
Attract investments;
Attract and retain talent;
Improve your brand reputation;
Make you a preferred supplier;
Make you part of a community (e.g. B Corp).


This first article provides a general overview of implementing a successful sustainability strategy.
Keep in mind that this is a circular process. You should strive for continuous improvement rather than completing a box-ticking exercise.
Over time you can improve your performance based on what you learned and truly embed sustainability at the core of your business.
It is only through ambitious goals and consistent efforts that we will be able to shift to a more sustainable economy.
Additional reading